Day two at the Chiemsee European Tow-In Championships started with the second qualification round that included some of the best freestyle windsurfers in the world, amongst them current World Champion Gollito Estredo (North/Fanatic) from Venezuela, who won the first edition of the Chiemsee Tow-In Championship in 2012, Taty Frans (Starboard) and Youp Schmit from Bonaire as well as tow-in expert Julien Mas (JP) from France just to name a few.
Impressive moves were shown by most of the riders, especially 16 years old Sam Esteve (JP/Neilpryde) and Giovanni Passani from Italy who both had their international tow-in debut today, deserve a mention apart from the top riders of this fleet. Esteve showed a double funnel diablo in his second run and could score 29 points whilst Passani landed a smooth double funnel cana brava.
Estredo won over the huge crowd on the beach with his first run already when he rotated through a powerful flaka shaka into flaka which scored him 52,5 points, the highest score of this competition so far and put him in the lead straight away.
Taty Frans did a perfect and very powerful triple funnel diablo that got honored with 50 points and the second place. Julien Mas who was also going for a very clean triple funnel could reach 46 points and qualified in third place for the final.
Antoine Albert from France did a perfect switch kono in his second attempt and just missed the top three with a score of 45.
The last qualification fleet was staged at 7.00 pm as the beach started to fill up more and more which led to the tension amongst the competitors to rise. The battle for the remaining three places for the final was a hard one with the fleet including Amado Vrieswijk (JP/Severne), Kiri Thode, Björn Saragoza (Starboard), Dieter Van der Eyken (Starboard/Severne), Adam Sims (Sailloft/Patrik), Antony Ruenes and Davy Scheffers who are all known names in the tow-in discipline.
Throughout the whole competition we saw solid funnel combinations and burner combos. The air-funnel into funnel or 360 seems to be the most consistent move amongst the freestylers and most of the fleet tried to play it safe in the first round to attack in the second one. Davy Scheffers who is usually not too keen to enter the tow-in discipline seemed to have his head screwed on and got highest score straight away in his first run with a huge air-funnel into air-funnel that left the judges impressed and the audience cheering.  Kiri Thode managed to take the second highest score already with his first move. Beginning from position three the field got very close with most of the moves being scored about 0,5 points apart. After seeing loads of funnel combinations Adam Sims's double spock was refreshing to see. Since he also managed to get a good score in the first round he positioned himself in third place after an equal tie with Amado Vrieswijk.
The lucky loser who will complete the fleet of ten finalists is Antoine Albert who scored 46 points for his switch kono 360.
The results of today: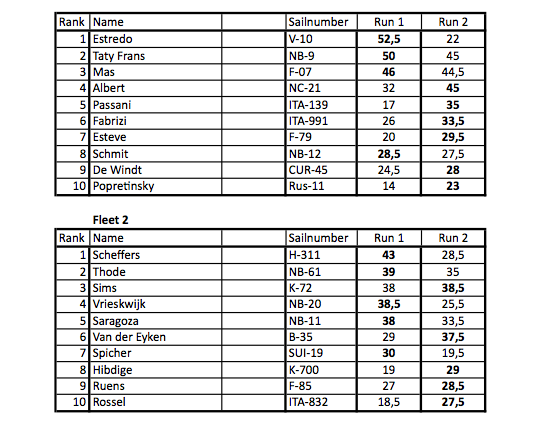 Fighting for the title of the European Tow-In Champion sponsored by Chiemsee we will see: