Due to the windy conditions on our first competition day we had to postpone one of the qualification fleets and had to run fleet two and three today. The full beach and the sunny weather provided the perfect scenery for the twenty riders who were eager to get into the final tomorrow.
Fleet 2 was on the water at 3.00pm with some of the best tow-in riders including 2015 EFPT Tow-In Champion Adam Sims (Sailloft/Patrik), current leader of the Worldtour Gollito Estredo (North/Fanatic) and Steven Van Broeckhoven (JP/Neilpryde) who could pull the European tow-in title already two times.
The very strong fleet number 2 didn't hold much suprises concerning the expected level- already in the first round we've seen air-funnell burners by Yentel Caers (JP/Neilpryde) as well as Davy Scheffers who seemed to get more into the tow-in discipline lately. Even the young rider Sam Esteve (JP/Neilpryde) from France shot through a nicely executed funnell burner in his first round and even tried an air-funnell into burner no handed in his second attempt. Steven Van Broeckhoven went for his signature tow-in move the tripple funnell with lots of style and speed, just as we are used to from the Belgian. Also the Italian crew put on a great show with Fabrizi (North/Fanatic) spinning through funnell combos and a culo and Riccardo Marca (North/Fanatic)  and Rossel Bertoldo (Neilpryde) attempting some funnell combos. Marco Lufen (JP/Neilpryde) who is the only German in the tow-in fleet, spun through a double funnell with a diablo at the end. Adam Sims wanted to go for a spock culo in his first run which he practiced in the warm-up session but couldn't get the rotation for the culo. In his second run he went for a double culo and unfortunately dropped it at the end. Gollito Estredo slammed his move in his first run which obviously led to a really high motivation to squeeze everything out of the second one where he landed a perfect air-flaka into shaka flaka-diablo. This move put him into the lead.
Results of fleet 2: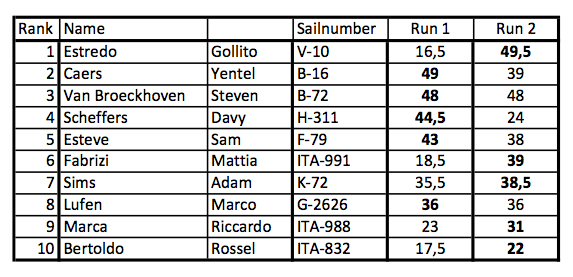 Fleet three included the Frans brothers Taty (Starboard) and Tonky (Patrik/Sailloft) and also Adrien Bosson (North/Fanatic) who is one of the most consistent performers in this discipline.
When the first rider of fleet three Tim Ruyssenaars went for his first run the beach was packed like never before. There was hardly any space left at the waterfront whilst the ten sailors were putting on a great show. Outstanding was French freestyler Adrien Bosson who pretty much rocked this event – he went for a perfect air-funnell into burner in both of his runs. Tonky Frans who recently changed his board and sail sponsor could also convince on his new equipment and stomped a perfect and supersmooth skopu. He scored 52 points which is also the highest score of the event up to this point. Antoine Albert (Goya/Goya) who can be seriously dangerous in both freestyle disciplines went for a switch kono and was pretty much planing out of it.
Taty Frans circled through funnell combos but couldn't quite perform the way he was hoping for. Antony Ruenes who is famous for his powerful style and who was the winner of the EFPT Lanzarote in 2015 went for funnell burner combinations but couldn't properly make the landings. Nic Hibdige, the young Brit who had a terrible crash in the warm-up that also destroyed his 4.4 completely, was pushed to go for funnells into burners as well, yet he still looked a bit shaky in take offs and landings. Hugo de Sousa (RRD/RRD) from Brasil literally exploded through the most powerful air-funnell into air funnells but couldn't reach enough points to make it into top three. Balz Müller (Patrik/Severne) who is known to be one of the most inventory sailors and who has a bit of a crazy reputation was competing in a costume, detached his sail and went for a move with only his board. In his second run he was attempting a willy skipper which was never seen in tow-in but couldn't quite pull it in the end.
Results of fleet 3: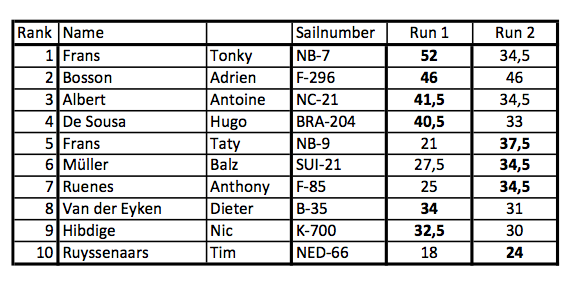 Lucky loser to complete the fleet of ten riders for the final is Davy Scheffers.
The final of the Chiemsee Tow-In Show will be staged tomorrow at 3.00pm local time!