The second day at the DAM-X event here at the Zeil- and Surfcentrum in Brouwersdam was packed with incredible freestyle action of some of the best windsurfers of Europe and beyond. With an unusually strong easterly wind kicking in already in the early morning, a whole single and double elimination for both men and women could be finished.
Single elimination men:
An outstandig performance was put on by the young French sailor Sam Esteve (JP/Neilpryde) who was taking out Francesco Cappuzzo from Italy, New Caledonian sailor Antoine Albert (Goya/Goya), Canadian Phil Soltysiak (Starboard) who is ranked 5th in the world, to then advance over Jacopo Testa in the losers final. This led to the first podium position in the EFPT of this promising young freestyler.
A bit of an upset was caused for Frenchie Adrien Bosson (North/Fanatic), who is currently in second position of the European ranking, when he got taken out by Testa in the quater final where the level has already been insane. The boys landed big powermoves and move combinations like spock culos, burner funnells and funnell burners just to name a few.  After becoming 3rd in the EFPT Lanzarote earlier this year, Mr. air-kabikuchi' Jacopo Testa continued his run for the international top positions at this event. The Italian went through all of his moves with lots of power and style and could end up 4th after the single elimination.
Mattia Fabrizi (North/Fanatic) from Italy, who finished in an excellent 7th place at the Worldcup in Sylt, managed to beat Taty Frans (Starboard) from Bonaire yet couldn't get past Worlchampion 2015 Dieter Van der Eyken (Starboard/Severne) who could only be stopped by Belgian former World- and multiple European Champion Steven Van Broeckhoven (JP/Neilpryde).
Van Broeckhoven (JP/Neilpryde), who is also the current leader of the tour, proved once again that he is someone to look out for, being very consistent in his moves yet always pushing for the next level to progress this discipline.
The top three men after the single elimination:
1st Steven Van Broeckhoven
2nd Dieter Van der Eyken
3rd Sam Esteve
Single elimination women:
Ten girls were participating in the second ever European Championship for womens freestyle windsurfing. Amongst them have been big names like Sarah-Quita Offringa (Starboard/Neilpryde), Arrianne Aukes (North/Fanatic), Maaike Huvermann (Starboard/Severne) and Jazzy Zwerus (JP/Neilpryde) as well as some ladies new to the competition scene. The single elimination didn't hold many surprises yet showed the high level of the top freestyle ladies. Offringa powered through her moves stomping culos, burners, konos as well as stylish shakas, sliding moves and forwards. Local rider Maaike Huvermann who is stepping up her level year by year was landing tricks like funnells and flakas on both tacks and mixed it up with other powermoves and sliding maneuvres. Dutch lady Arrianne Aukes who is competing for many years on the world tour and who had a recent sponsor change to North/Fanatic, filled up her judging sheet showing that she was still one opponet to look out for.
The top three ladies after the single elimination:
1st Sarah-Quita Offringa
2nd Maaike Huvermann
3rd Arrianne Aukes
Double elimination men:
After just a very quick lunchbreak the double elimination has been started straight away with several sailors being keen to fight their way back up. One of them being UK freestyler Max Rowe who had to give way to Davy Scheffers in his first heat of the single elimination. Rowe who is a very experienced competitor could take out Marc Pesman (Severne) and Giovanni Passani, yet couldn't defeat Swiss sailor Loick Spicher who has been on a mission himself until Taty Frans was closing the door for him in the double. The Carribbean freestyler was going through backloops and stylish powermove combos in most of his heats but couldn't get past Testa whose sailing has been from another planet.
Antoine Albert has also been one of the riders to climb up the ladder in the double. The young New Caledonian who is a competitor on tour since serveral years, stopped some big names like Julien Mas (JP), Hugo de Sousa as well as North/Fanatic team-mates Mattia Fabrizi and Adrien Bosson to then finish in 6th place.
Lennart Neubauer (Starboard/Neilpryde) is one of the young-guns who deserves a special mention here. The 12 years old had his debut in the pro fleet at the EFPT Croatia this summer and proved at this event that he holds a bright future in this sport. Neubauer was staying calm and focused and advanced over Rik Coumans. However the young Greek rider couldn't win against Dutchie Tim Ruyssenaars.
When the wind got stronger and stronger for the last heats of the double elimination, the riders put on one of the best freestyle shows of the year. We've seen big air-kabis, air-funnell burner combinations, downwind combos like spock-culos and spock konos and even a bonka by Testa and a shove-it spock into kono and shove-it spock into culo attempt by Steven Van Broeckhoven in the final against the Italian. The last heats of the day were a firework of moves and a pleasure to watch, with Van Broeckhovens perfect shifty being one of the highlights of the day.
The top three men after the double elimination:
1st Steven Van Broeckhoven
2nd Jacopo Testa
3rd Dieter Van der Eyken
Double elimination women:
Whilst Austrian windsurfer Hanna Poschinger had a great comeback in the double sailing her way up to 5th position there haven't been many surprises in the ladies fleet.  Jazzy Zwerus from the Netherlands could hold her fourth place, which must be very pleasing for her after coming back from a serious knee injury. The top positions got slightly mixed up though: Arrianne Aukes was sailing an amazing heat against Maaike Huvermann landing switch moves, shakas on both tacks as well as classic sliding moves and powermoves like switch-konos and konos. Huvermann had to give way to the experienced Dutch sailor who met Offringa in the big final afterwards. Offringas freestyle level is undeniably from a different world still. The freestyle queen from Aruba was landing clean culos, a burner one-handed, a kono as well as a super nice shaka just to name a few of the maneuvres that have been marked down.
The result after the double elimination:
1st Sarah-Quita Offringa
2nd Arrianne Aukes
3rd Maaike Huvermann
The forecast for the next days is still looking good so we'll aim for another single and double starting tomorrow morning.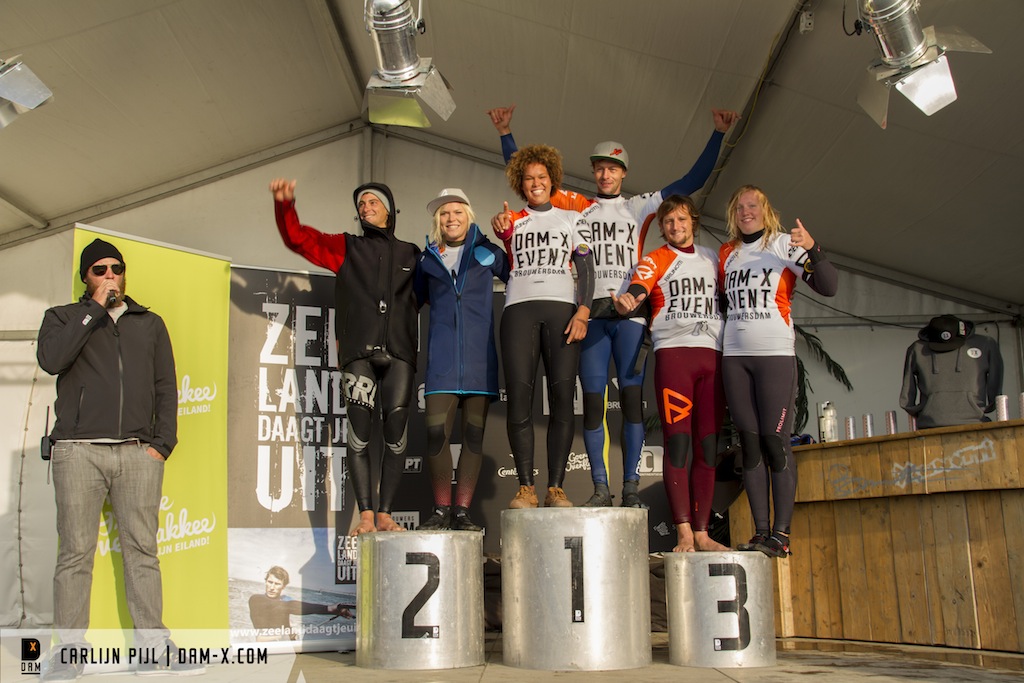 DAM-X windsurfing Action clip from DAMXevent on Vimeo.