With an expected whole day of windsurfing competition ahead, the new single elimination was started at 9.00 am in the morning. The conditions looked lighter than yesterday, yet more than suitable to run the first rounds of the mens.
Already in the first heats the level has been noteably high with some of the riders landing spock culos, double spocks and shaka flaka combinations. With a seven minute heat duration and three moves counting each tack, the sailors combined power-moves with sliding maneuvres and adapted perfectly to the different conditions compared to yesterday. Mattia Fabrizi (North/Fanatic) and team-mate Adrien Bosson, ranked 9th and 7th after the first double elimination were motivated to fight their ways up through the new single and took out Julian Wiemar (Starboard/Severne) and Alexey Karachevtsev respectively.
A little upset was caused for currently ranked 7th overall Riccardo Marca (North/Fanatic) from Italy who had to let Tony Mottus (JP/Neilpryde) from Estonia pass through the round. Both riders had similar moves counting, yet the 2:1 decision favored the Estonian in the end.
Following in the whole tour for the first time in 2016, Johnny Yagen from Israel went into this competition holding a 9th place overall, however couldn't perform the way he has been hoping for here at DAM-X. After some disappointments in the first eliminations he had to let strong sailing Loick Spicher from Switzerland pass. Spicher and Yagen were going for almost exact the same moves on both tacks, Spicher however could win on technical difficulty and style.
After heat number 16 the wind has been dropping more and more which led to a cancellation of the first ladies heat with Marianna Vagni (Patrik) against Farrah Hall (JP/Neilpryde) and Margo Kurvink against Tess Van der Hulle. The competition was put on stand-by throughout the following hours. Unfortunately the conditions didn't improve anymore until the evening.
Tow-in:
With the DAM-X tow-in competition with 3.000€ prize-money, the alternative program for the day was decided quickly. 29 riders registered to fight in three qualification rounds for the final on Sunday. Amongst them were also vice Worldchampion Amado Vrieswijk (JP/Severne) and Yentel Caers (JP/Neilpryde) who were not allowed to enter the main event due to new PWA rules.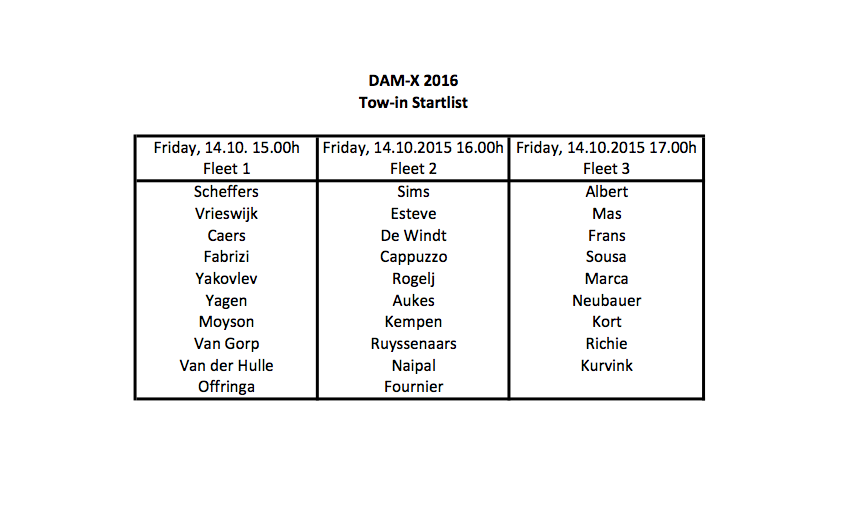 Usually the best three riders of each round plus a lucky loser advance to the final. This time another judging format was used- the riders with the best ten scores out of all the rounds will go through. This is also the reason why all the qualification rounds were run today – to guarantee similar conditions for everybody.
Besides some tow-in experts like Adam Sims (Patrik) from the UK, Mattia Fabrizi (North/Fanatic), Amado Vrieswijk, Julien Mas (JP) and Antoine Albert (Goya/Goya), it was also good to see some rookies and some ladies entering this discipline. Tess Van der Hulle, Margo Kurvink, Sarah-Quita Offringa and Arrianne Aukes were taking on the boys.
Apart from the very usual funnell and double funnell combinations, some riders were stepping it up like Adam Sims who pulled a perfect double spock which was marked down as the highest scoring move of all three rounds. In his second run he unfortunately couldn't make the landing of his double culo attempt. Aside the British sailor, also Davy Scheffers and Taty Frans showed a decent performance with an air-funnell into burner and a burner 360 respectively. Also Hugo de Sousa from Brazil could stick a big burner 360 and just managed to qualify for the final in 10th place. Antoine Albert from New Caledonia landed a perfect skopu which became his signature tow-in move over the past seasons. Julien Mas spun through a stylish tripple funnell but couldn't land the funnell-burner he was aiming for in his second run. Vladimir Yakovlev (JP/Neilpryde) looked very confident in training and also his runs and qualified with a clean one-handed burner. Yentel Caers could secure his place with an air-funnell burner. The ten riders for Sunday are completed by Francesco Cappuzzo (spock) and Rafael de Windt (double funnell).
Tow-in finalists from last to first place: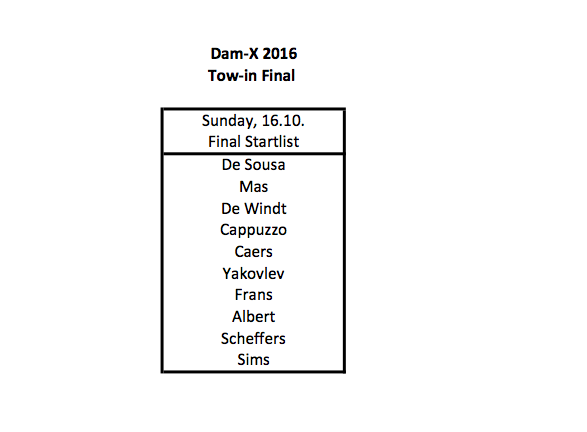 With a forecast for south-westerly wind for tomorrow morning the skippers meeting has been schedulded for 9.00am. We hope to be able to finish the single elimination for men and women tomorrow and maybe be even able to start with the double.