With a very promising forecast of south-westerly wind of up to 20 knots the day was kicked off with the skippersmeeting at 9.00 am. However, due to a high cloud coverage and rain the wind didn't seem to come through properly. Since the conditions were improving more and more around lunchtime, the horn for the first heat of the day went off just around 1.00 pm. Unfortunately the ladies heat with Marianna Vagni against Farrah Hall and Margo Kurvink against Tess Van der Hulle was cancelled not long afterwards as the stronger gusts came through less and less. The fleet was held on stand-by and 15 minutes announcement during the remaining afternoon.
When the wind dropped off more and more race director Tom Hartmann decided to keep the sailors on stand-by, yet run the tow-in final. With the beach full of spectators, sunny weather and a fleet of very impressive tow-in riders the final was a pleasure to watch.
Each finalist got three runs with the best one counting. The best ten riders of the three qualification rounds yesterday put on an amazing show right in front of the big crowd at the Zeil- and Surfcentrum Brouwersdam. With just a little bit of wind and chop the sailors were going way higher than usually and could land their moves nicely.
Davy Scheffers went for air-funnell burner combinations, Yentel Caers (JP/Neilpryde)  rotated through a clean double burner, but unfortunately couldn't land it as perfect as he probably hoped for. Antoine Albert (Goya/Goya) was going for a nice skopu diablo, yet obviously wanted more since he managed to land a skopu funnell diablo at the DAM-X 2015. Taty Frans (Starboard) looked already really safe in his first two runs but stepped it up massively in his last run with a superhigh burner 360. Russian JP/Neilpryde rider Vladimir Yakovlev sticked a one-handed burner, a one-handed burner 360 and tried to throw a no-handed burner in his last run. The Italien multi-talent Francesco Cappuzzo couldn't quite put on the show that he wished for after qualifying for the final in 4th place and didn't seem to have enough speed to go through his maneuvres. Hugo de Sousa from Brazil couldn't impress too much in his first two runs, yet landed a perfect skopu in his last attempt which the crowd honored with a big applause. Julien Mas (JP) who is always keen to put on a good show in this discipline was going for a skopu, an air-funnell burner and an air-bob into air-bob.
Adam Sims (Patrik) who was leading the fleet after the qualifying rounds stomped the most perfect double culo right in front of Chris Presslers (Continentseven) camera in his second run. The double culo which is rarely seen in tow-in scored 54 out of 60 possible points and put Sims into an untouchable first place.
Adam Sims tow-in double culo from European Freestyle Pro Tour on Vimeo.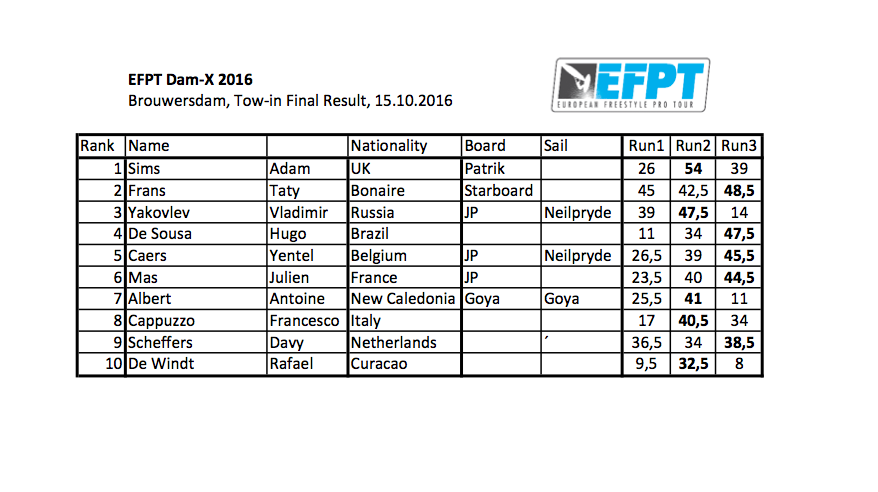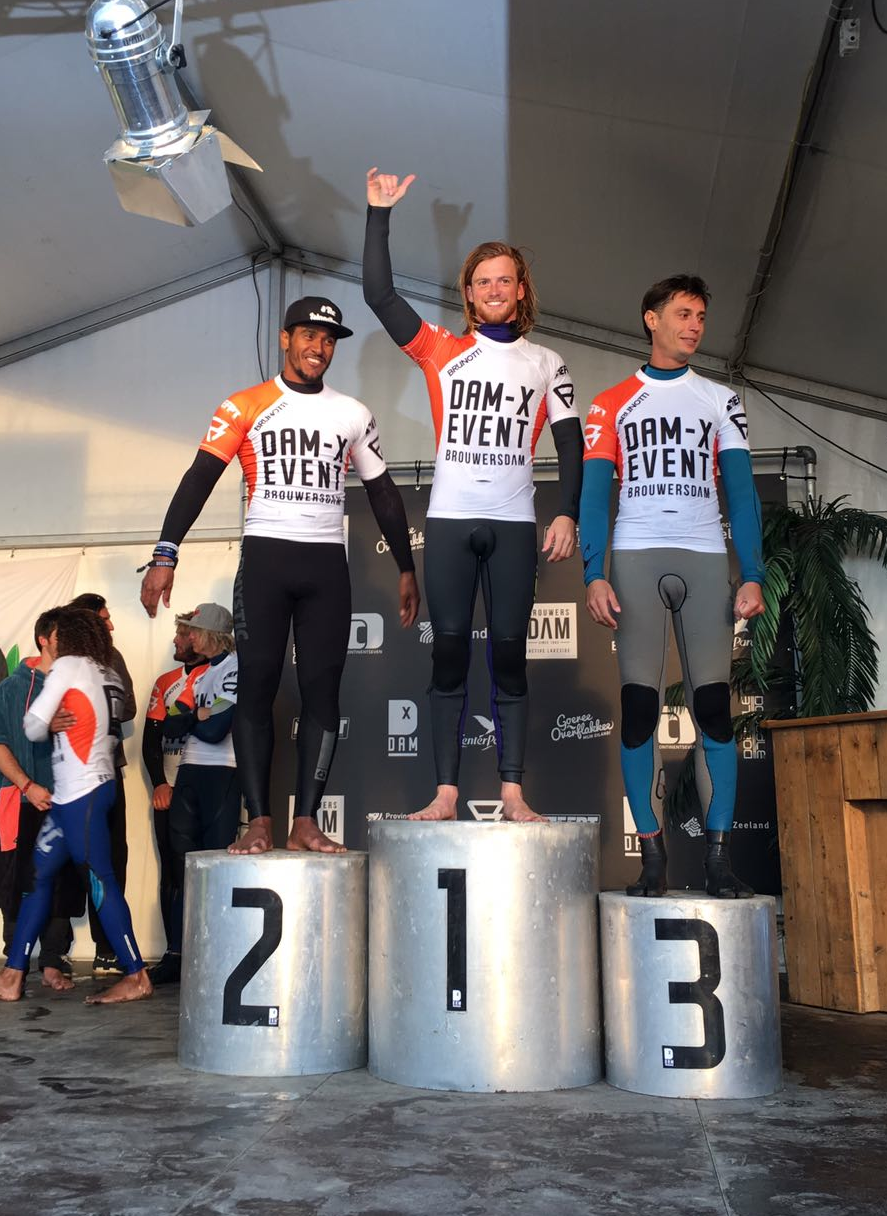 The skippers meeting for tomorrow is schedulded for 9.30 am with the first possible start at 10.00 am! With the forecasted south-westerly wind we hope to be able to run some more heats of the single elimination.