With a forecast for south-westerly wind, that would improve during the day, the remaining heats of the double elimination both for men and women have been launched around 10.00am this morning. By this evening, six men and six women remain in the run for the podium positions.
Double elimination men
Adam Sims (Patrik/Sailloft), who had to give way to Julien Mas (JP) already in the second round of the single elimination, fought his way back up today. The Brit, who didn't even expect to be able to compete in 2017 due to a spine injury, took out Felix Volkhardt, Andy Lachauer (JP/Neilpryde) and Marco Lufen (North/Fanatic) from Germany, one after the other. Sims, who is also producing the daily EFPT videos, had the competition mode fully switched on today, stomping culos on both tacks, landing tweaked shove-it spocks as well as ponches, burners, funnells and several sliding maneuvres in rather challenging and patchy conditions.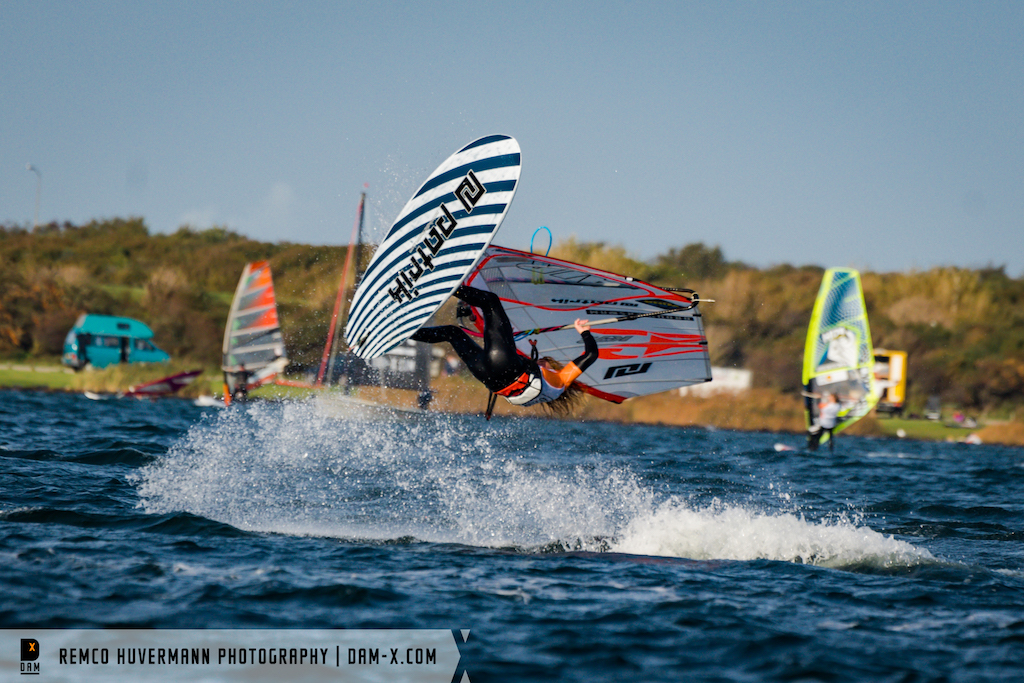 Also local sailor Tim Ruyssenaars has been on a mission of his own today, taking down Pavel Khomenko (Goya/Goya), Matteo Testa (RRD/RRD) and Julian Wiemar (Starboard/Severne). He would have then faced Rick Jendrusch (Severne), who had to pull out of the competition due to an injury. Ruyssenaars then advanced straight to compete against Sam Esteve (JP/Neilpryde), who is currently ranked second overall and who was the only one who could stop his run through.
Davy Scheffers, who lost in the quater final yesterday against tourleader Jacopo Testa (RRD/RRD), was eager to improve his position and could take victory over Sims, Riccardo Marca (North/Fanatic), to then face Sam Esteve next. Due to the decreasing wind, this heat wasn't sent out to the water in the end.
One of our youngest sailors, Lennart Neubauer (Starboard/Neilpryde) from Greece also deserves a mention here: the 13 years old talent, who already entered the EFPT Lanzarote this year, showed that he will have be part of the future of this sport. Neubauer was filling his judging sheets on both tacks, impressing with big konos, shakas, flakas, punetas, ponches, grubbies, esliders and spocks. He managed to eliminate Stefan de Bell (Fanatic/Severne), but couldn't get past Tonky Frans (RRD/RRD).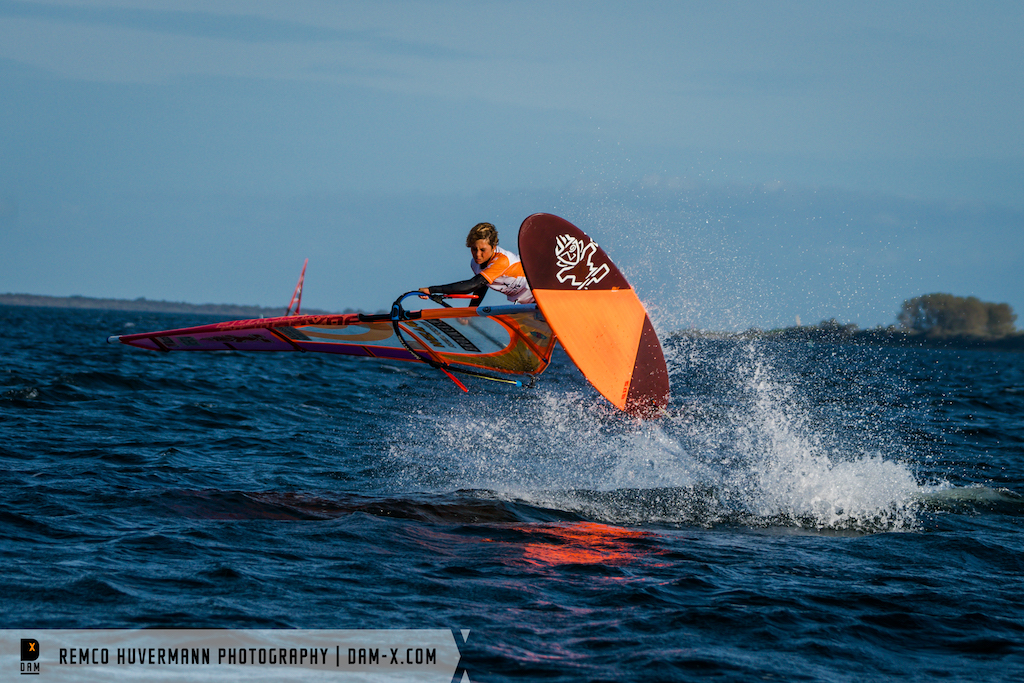 Womens double elimination
In the first round of the double elimination Hanna Poschinger (Sailloft/Patrik) from Austria and Johanna Rümenapp from Germany could succeed over local girls Margo Kurvink and Tess Van der Hulle respectively, showing spock variations, flakas and switch moves. Further in the double Rümenapp could take out Poschinger in a close decision to then face young Slovenian windsurfer Lina Erzen, who could win over Salomé Fournier in the previous round. Unfortunately they wind had been dropping off more and more and eventually the heat had to get cancelled.
In the evening the annual Friday night light show was staged, including a tow-in show and a night SUP to raise money for a local animal shelter.
We are hoping to be able to finish the double eliminations within the next two days, to give the remaining six men and six ladies the chance to either maintain their positions or fight their way further up!