On the final day of the DAM-X event here at the Zeil- and Surfcentrum in Brouwersdam the wind finally kicked in already early in the morning. For several hours the conditions were suitable for 5.2s. Just around midday the wind dropped to then leave everyone praying for it to come back in the evening. It did. In the end and just before sunset we could award an event winner who hasn't been on a first place of an international podium before and the first ever female European Freestyle Pro Tour Champion.
The horn for the first heat of the day with Adrien Bosson (North/Fanatic) against Nik Van de Eerenbeemt (JP/Neilpryde) and the Italian battle of Riccardo Marca (North/Fanatic) against Jacopo Testa (RRD/RRD) was set off at 9.30am as soon as the wind-readings were promising enough. The young Italian sailor Marca was showing how much he progressed over the last year, yet couldn't take down Testa who did a clean double-spock, a super nice one-handed shaka and a ponch just to name a few moves.
Marco Vinante (JP) from Italy who had his EFPT debut in Lanzarote this year took out Davy Scheffers in the first round with very diverse and technical difficult moves like a regular chachoo 540. He also sailed an extremly strong heat against Julien Mas (JP) but lost to the member of team France by a 2 to 1 decision.
An impressive performance was also shown by North/Fanatic rider Max Rowe who was sailing a powerful and consistant heat against Antoine Albert showing shakas, a one-handed switch flaka and several other down and upwind maneuvres on both tacks to raise his diversity. Dieter Van der Eyken (Severne/Starboard), the reigning world-champion, managed to stop the UK sailor by filling up his judging sheets with move combinations like double spock, spock culo, a shaka-flaka and a shove-it spock to mention a few. The Belgian rider took victory over Julien Mas in the quarter-final and advanced to the semi-final where he met Yentel Caers (JP/Neilpryde) who once again proved his world-class potential. Caers was on fire and even in the lighter conditions which involved some pumping he managed to fill up the sheets in every heat. He hardly dropped any of his moves in his battle against Mas and Phil Soltysiak (Starboard) and powered through culos both tacks, big burners and air-funnells as well as shaka- and switch kono combinations. Caers eventually had to give way to Dieter Van der Eyken (Starboard/Severne) who seems to be in an incredible form this season.
Amado Vrieswijk (JP/Severne) from Bonaire was sailing on an outstanding level as usual, taking out Mats Moyson (Sailloft/Patrik), Rick Jendrusch (Severne/F2) and Steven Van Broeckhoven (JP/Neilpryde) in a very close heat in the quarter final. Van Broeckhovens sailing didn't look as confident as we are used to of the current European Champion and he himself seemed to be very disappointed about the outcome. Right after  the 4th round of the single elimination the wind dropped and the hopes to reach a full result were lowered.
Just one hour before sunset though, the easterly wind filled in again and the semi-finals of the men and the women could be started. The riders were well powered up on their bigger gear and the heat duration was extended to ten minutes with three moves each tack counting to guarantee a fair competition.
Bosson was facing Vrieswijk whilst on the other side of the draw Caers was battling against Van der Eyken. Bosson seemed to struggle a bit whilst the rider from Bonaire showed a combination of very stylish power and sliding moves. Van der Eyken used the stronger gusts for big konos, a double spock and a spock-culo and the lighter wind for the most perfect regular chachoo.
In the losers final local rider Yentel Caers was putting on a powerful show against the French sailor. Even though the heat of Caers against Bosson was a firework of moves, Bosson had to let Caers pass in the end who therefor reached his first international podium.
The final of the men saw the two Severne team-riders Vrieswijk and Van der Eyken batteling it out once again. With no restriction to the amount of moves, the two top level sailors were giving the judges a hard time. We have seen spock-culos from both riders, big air-funnells and burner combinations, massive konos and culos as well as kabikuchis both ways by Amado Vrieswijk and a clean flaka-shaka by Van der Eyken. It was a very close decision but it was in the favor of the young rider from Bonaire who achieved his first international event win ever and is now leading the EFPT overall ranking.
Also the eight ladies who registered for the first ever EFPT women event were having a hard fight for the European Freestyle Champion title.
In the first round multiple freestyle world-champion Sarah-Quita Offringa (JP/Neilpryde) took out Shania Raphael from Germany who is a young motivated freestyle windsurfer that was entering an international contest for the first time. Local Maaike Huvermann (Severne/Starboard) could defeat Jazzy Zwerus (JP) from Holland, whilst Dutch freestyle queen Arrianne Aukes (RRD) took down North/Fanatic team-rider Maxime Van Gent. Vice-worldchampion Oda Johanne Brodholdt (Severne/Starboard) could take victory over Svetlana Martynova from Russia who can be a very serious opponent.
The best four girls met in the semi-final in the beautiful sunset light here at Brouwersdam. The gusty and lighter conditions definitely favored Maaike Huvermann who could easily take out Oda Johanne Brodholdt, who prefers to sail and compete in stronger winds. Brodholdt therefor met her friend and training-partner Aukes in the final for the 3rd and 4th place. The girls put on a fair fight and were both sailing really well. Oda was going for one-handed shakas and one-handed funnells as well as a super clean puneta and spock 540. Arrianne on the other hand had a super smooth eslider, a spock 540, semi funnells, shove-its and fast grubbies. The Dutchie had to let the Norwegian rider pass who ended up in third position.
Offringa was sailing as consistent as ever going for ducking moves like bobs, funnells and burners as well as spocks both sides and stylish shakas. She could dominate over Aukes in the semi-finals, yet really had to fight hard against Huvermann in the winners final. Huvermann was putting together a great heat with flakas and shakas both sides as well as regular konos, funnells and punetas. It was a very close decision between the routined sailor from Aruba and the young talented Dutch freestyler, however it favored Offringa in the end which makes her the first ever EFPT women freestyle champion. The Carribbean sailor stated that she was super happy about the event win and that she cannot wait to see the EFPT girls tour growing.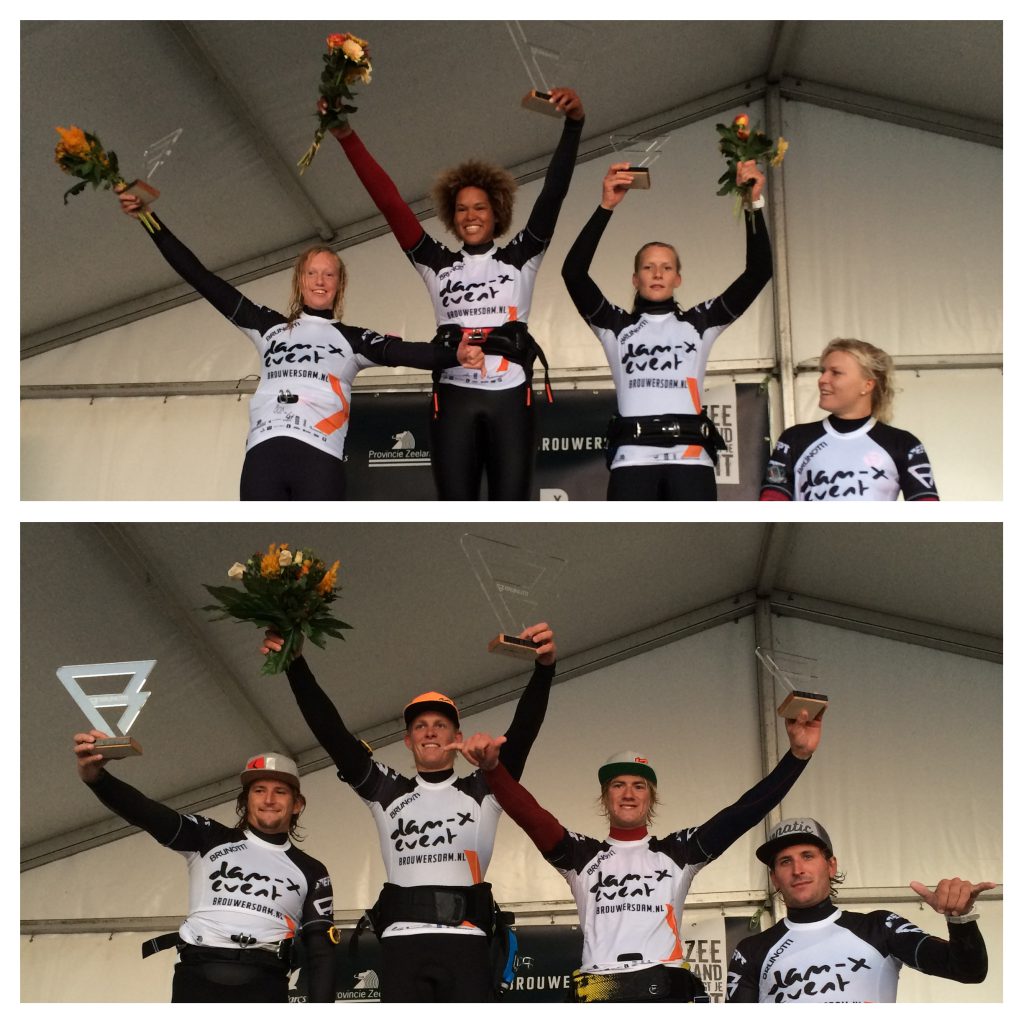 EFPT DAM-X Brouwersdam 2015 from DAMX on Vimeo.