After two years of absence the international competition scene was returning to one of the freestyle hotspots of Europe: Brouwersdam. At no other place more top-level sailors have been developing. Local rider Rick Jendrusch (F2/Severne), former world-champion and multiple EFPT champion Steven Van Broeckhoven (JP/Neilpryde), Belgium pro windsurfer Yentel Caers (JP/Neilpryde), EFPT champion of 2012 Davy Scheffers as well as current world-champion Dieter Van der Eyken (Starboard/Severne) have been training for many years at the Zeil- and Surfcentrum in Brouwersdam where they were taking their sailing to a whole new dimension.
37 men and 8 women registered for the freestyle competition. Apart from the high participation rate for the men we are delighted to have some of the best freestyle ladies world-wide batteling for the first ever EFPT ladies freestyle title. World-champion Sarah-Quita Offringa (Starboard/Neilpryde) from Aruba is amongst the girls who are keen to fight for the podium positions. Since Sarah-Quita has been successfully entering other PWA disciplines (slalom, wave) and is always looking for a new challenge she now also entered the mens fleet for the first time. Apart from the always-smiling pro from Aruba we'll see the Dutchies Arrianne Aukes (RRD), Maaike Huverman (Starboard/Severne) and Jazzy Zwerus (JP) as well as Norwegian vice-worldchampion 2014/2015 Oda Johanne Stokstad Brodholt (Starboard/Severne), Svetlana Martynova (JP/Neilpryde) from Russia, Maxime Van Gent (North/Fanatic) from Bonaire and Shania Raphael from Germany.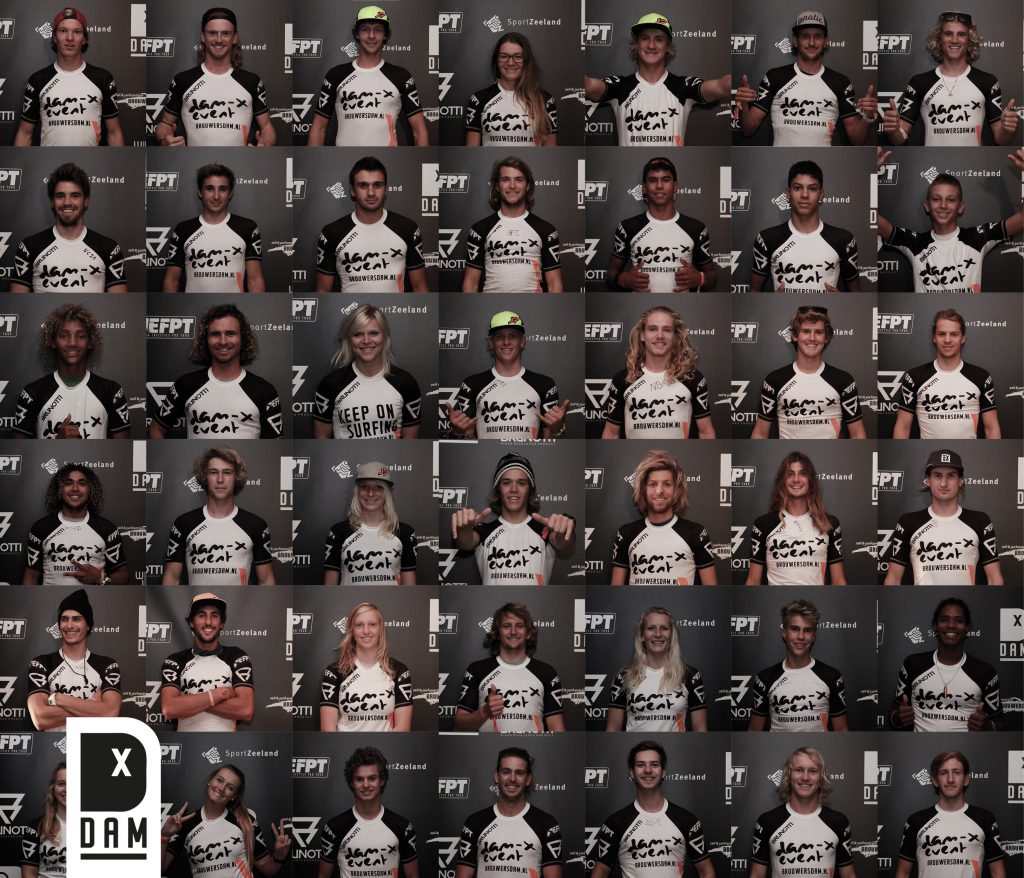 Alongside the top EFPT competitors we are more than happy to also welcome ten rookies to the international freestyle-windsurfing event scene. Richie Richard (Starboard), Richie Ryan (Starboard), Antonia Wave (Starboard), Richie Rowan (Starboard) and Kareem Naipal (Starboard) were all travelling the long way from Curacao to enter a pro event for the first time ever. The two Belgium riders Moyson Mats (Patrik/Sailloft) and Mattijs Lasore (Starboard/Severne) as well as Italian rider Nicolo Tagliafico, German Pascal Mikolajski (F2/Severne) and Nik Van de Erenbeemt (JP/Neilpryde) from Aruba are new to the EFPT riders fleet and will experience their first international freestyle competition.
The first heat was started just around lunch time seeing Nik Van de Eerenbeemt against Kareem Naipal and Nicolo Tagliafico against Ryan Richie. The conditions were marginal and the riders couldn't perform enough moves so the heat had to be cancelled afterall.
We re-started several hours later when the wind looked promising and we were expecting it to pick up. In the rather light conditions Van de Eerenbeemt could defeat Naipal and Italian sailor Tagliafico was taking down Ryan Richie. In the following heat Mattijs Lasore defeated Rowan Richie whilst on the other side Belgium Mats Moyson took out Richie Richard. In the next heat we saw world-champion Offringa obviously struggeling with the light winds, whilst 15-years old Wave Antonia from Curacao could put together a solid performance. The young Carribbean sailor was definitely favored by his lighter weight and could win over Sarah-Quita. At the same time local sailor Remko de Zeeuw took down Pascal Mikolajski.
Just when the second round with the Italian battle between Jacopo Testa (RRD/RRD) against Riccardo Marca (North/Fanatic) and Adrien Bosson (North/Fanatic) against Nik Van de Eerenbeemt started the wind started to drop off and even if the riders managed to pull some power moves apart from sliding maneuvres it was just not enough and a fair competition seemed to be impossible.
We remained on stand-by until 7.00pm and even had the chance to restart heat H17 with a front coming through, yet had to cancel it again and decided to call it a day.
With a not very promising forecast for wind tomorrow we'll start the tow-in competition with 3.000€ prize-money tomorrow afternoon. Skippers meeting will be at 9.00 am and first possible start for the contest will be at 11.00am