Day 2 at the DAM-X event at the Zeil- and Surfcentrum in Brouwersdam was all about tow-in windsurfing. With a marginal wind forecast yet beautiful weather the conditions were more than suitable to start with the 3.000€ prize-money tow-in competition.
38 riders registered to battle for the ten places in the big final on Friday evening. Amongst the experienced sailors also several EFPT rookies and three girls entered the discipline. According to the existing tow-in seeding the riders were allocated to three qualification rounds. Only the best three of each round plus one lucky loser would advance to the final.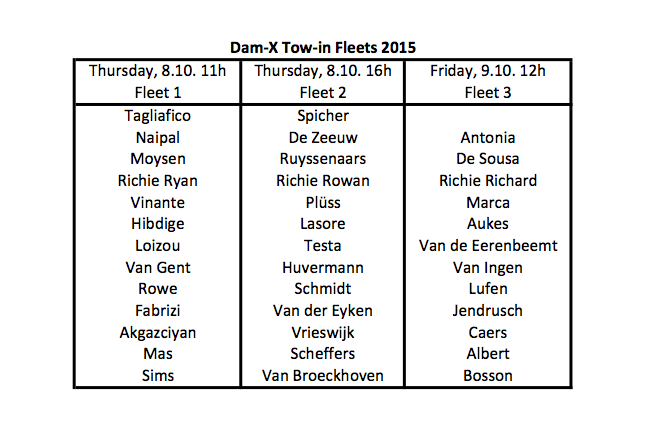 With several rookies in the first round we saw a slightly slower start with some nasty crashes. A very decent performance was shown by Mattia Fabrizi (North/Fanatic) from Italy and his team-mate from the UK Max Rowe, yet both riders unfortunately unable to make it into the final as the level was really high amongst the top seeded guys.
A stand-out rider of the day was Nico Akgazciyan, who has always been a driving force in pushing a discipline forwards. He landed a perfect one-handed burner 720 in his first run and a regular chachoo in his second attempt. Even the judges were honouring the Frenchie with cheering and applause for this move that hasn't been seen in tow-in before. Also Marco Vinante (JP) from Italy who went through a double funnell in the first round, threw a regular chachoo attempt in his second but couldn't quite make it in the end. Showmen Julien Mas (JP) once more proved his skills and stomped a perfect skopu into another pop on his first and an air-bob into bob on his second run. Adam Sims (Patrik/Sailloft), who has made it into every tow-in final this year and always managed to pull a podium position in the end was definitely a rider to look out for in this fleet. On his first run he nailed a fully planing culo, to then step it up with a perfectly clean double culo which led to the highest score of fleet #1 and, in the end, of the whole day. The first three finalists are therefor: Adam Sims from the UK as well as Julien Mas and Nicolas Akgazciyan from France.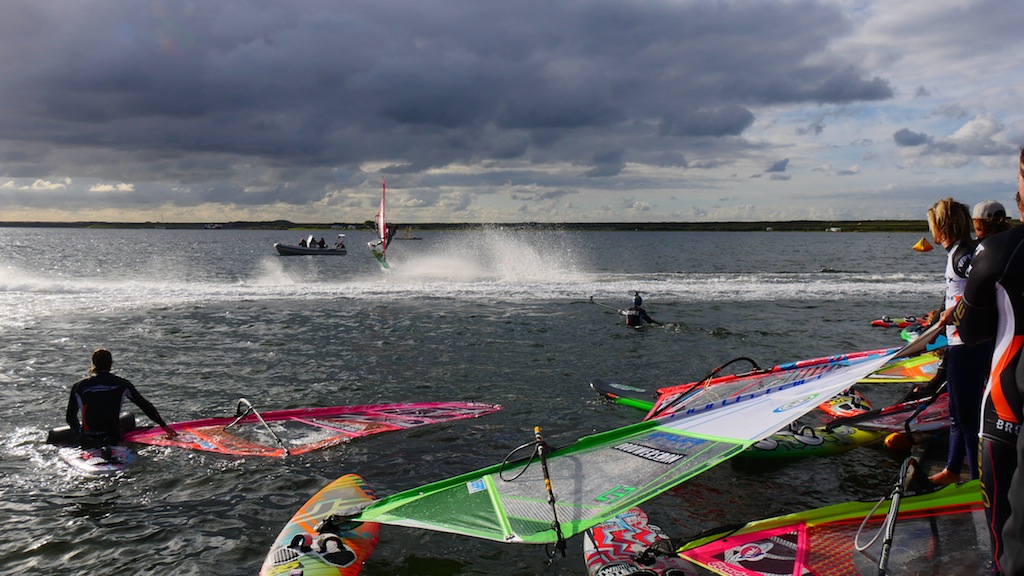 After the lunch break fleet #2 was sent out to the water straight away. The only girl in this fleet, local and world-class freestyer Maaike Huverman (Starboard/Severne), was throwing perfect funnells in front of the gathering crowd and proved that she can easily keep up with many of the male competitors. Whilst Amado Vrieswijk (JP/Severne), who is always a contender for the places in the final, struggled to land his moves, local sailor Dieter Van der Eyken (Starboard/Severne) rotated through a perfect burner 900 which put him into the lead. Only Steven Van Broeckhoven (JP/Neilpryde) could excel Van der Eykens score with an air funnell into burner.
Apart from the tow-in experts, the rookies Mattijs Lasore (Starboard/Severne) as well as Rowan Richie (Starboard) managed to impress with some skills in this discipline and sailed away from some nice funnells and air-funnells. Also Davy Scheffers recently seemed to have discovered the tow-in discipline for himself – he landed a perfect culo, which put him into the third place. The three finalists of fleet #2: Steven Van Broeckhoven and Dieter Van der Eyken from Belgium and Davy Scheffers from Holland.
The last four places that are available for the final will be decided tomorrow. We'll start qualification round #3 at 12.00am. The final with 3.000€ prize-money will be staged tomorrow evening between 5.00pm and 7.00pm.
For more live updates and 'behind the scenes' footage make sure to follow our social media channels.