For more than two decades, the Surf Worldcup in Austria has been re-inventing itself, bringing watersports into the center of attention and proving year by year that windsurfing and the lifestyle around it hold a special kind of attraction for the masses. It doesn't matter which age group you are in, this event doesn't seem to disappoint in any way. This year the organisation decided to focus 100% on freestyle windsurfing – why? Because 'it is the best sport on earth – and always will be", says Mike 'Damike' Piechura, who is part of the core organisation team in Neusiedl.
EFPT: Can you tell us how the Surf Worldcup in Neusiedl will look like this year?
Damike: Well it's a new year and we will concentrate on freestyle full power. The event area will be pretty much the same except for a new storage tent fort he equipment- but that are just details.
We will also focus more on tow-in, because this discipline has a big impact on the visitors and the riders can show their moves way closer to the beach.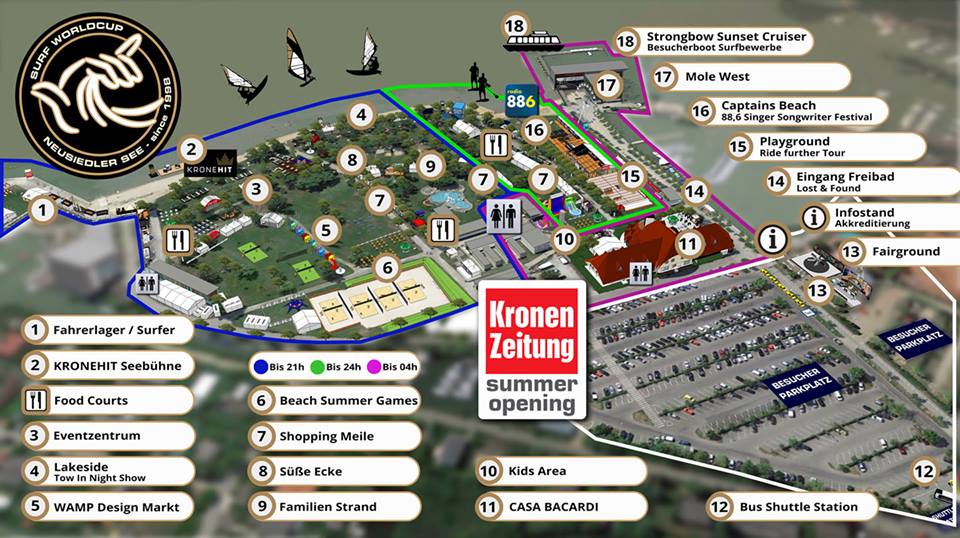 EFPT: What was your motivation to organise it differently this year?
Damike: We learn each year and as we moved to a new place we still have the feeling that we are doing a completely fresh event. Besides, it is boring to do it the same over and over again!
EFPT: The sport will be very much in focus in 2018, what's your personal connection to freestyle winsurfing and the event?
Damike: My personal connection to freestyle windsurfing…I can't really say that I still understand what's happening because what the guys are doing on the water right now looks like a total different ball game than what I was judging back in the days. For me its still the best sport on earth and it always will be.
EFPT: Some EFPT organisers plan to implement also a juniors competition this year. What are your thoughts on that and can you imagine to have a juniors competition in Austria at some point?
Damike: That is a great development! Get young guys on board and on the water is just awesome. We will definitely look into that and see if we can do something with juniors in the next years.
EFPT: What are you looking forwards to the most?
Damike: As every year I can't wait to see all the guys again and see what new tricks they got in the bag!
EFPT: What will be a highlight for the spectators this year?
Damike: Again, the windsurfing will be sick – we all know that. But the event is so much more than just windsurfing and that brings the people to the lake. We always try to offer a bunch of new stuff to attract the masses. In fact it's rather a possibility for windsurfing to show off and spread the message that our great sport is still alive.
EFPT: You have been the EFPT tour manager and press officer for many years in the past. What do you think about this years tourplan? Is there any other event you would like to see?
Damike: Oh boy, my EFPT time feels like ages ago…. This years tourplan looks sick! I mean 8 EVENTS? That is impressive and there are great locations too. I have to say I'd like to be on each and everyone but the Toro Andaluz will always be a favorite and I have the feeling that Lanzarote is a grand one too. Also the DAM X, being the tour final should be on everyones list this year!
I have to say you guys are doing a great job and from my own experience I know that this is only possible if you love what you do! No one is doing this for the money – so thanks for keeping the tour alive!
EFPT: Thank you fort he kind words Mike and we hopefully see you at another EFPT event besides Neusiedl this year!