27 riders of 16 nations registered today for the second stage of the EFPT Lanzarote taking place from the 8th – 12th of July at the shores of Costa Teguise.
Next to many experienced EFPT riders like Adrien Bosson (North/Fanatic), Mattia Fabrizi (North/Fanatic), Yentel Caers (JP/Neilpryde) and Amado Vrieswijk (Severne/JP) just to name a few, we are delighted to also have see some new faces and even a girl entering the competition. Maxime Van Gent (North/Fanatic) who is a PWA competitor for many years already is on a big promotional roadtrip through Europe together with Bonairean top rider Amado Vrieswijk and spontaniously decided to participate.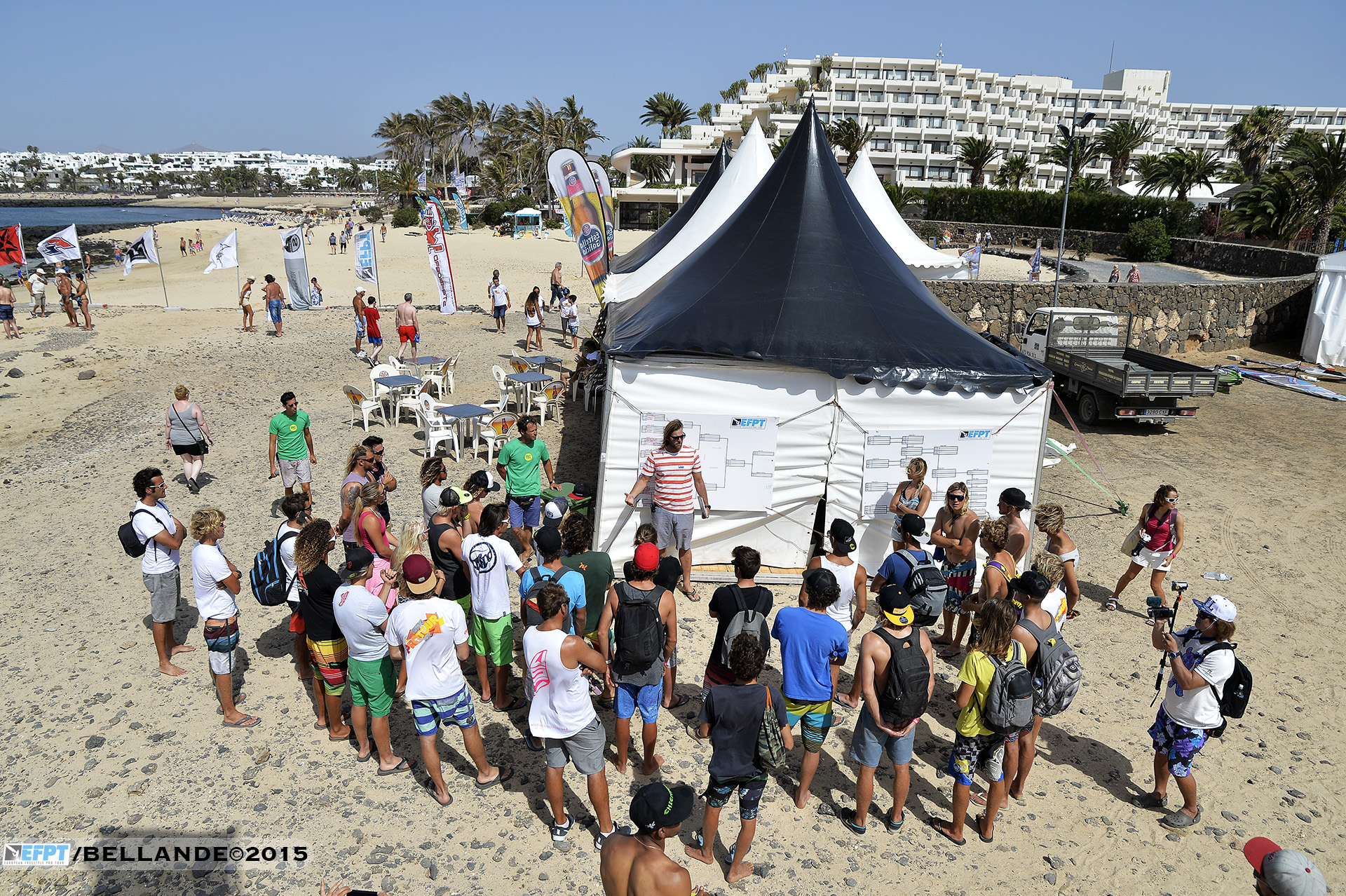 Amongst the EFPT rookies are Piotr Majcher (Patrik) from Poland, who is entering his first international event as well as Sebastijan Jancovich (Patrik) who has been spending his whole last summer at the Canaries to train brutal freestyle and now wants to match himself with some of the best freestylers there are.
After a long period of ups and downs concerning the wind situation, the conditions looked suitable again from 4.30 pm onwards. Already in the first heat the level of the participants became obvious with Antony Ruenes from France putting together the heat of the day straightaway landing huge culos both sides, a pasko, sick air funnels as well as a shove-it spock on the way out and a clean burner just to mention part of his performance. He was on against the only girl of the contest Maxime Van Gent (North/Fanatic) who on her side could also impress with a clean shaka as well as switch moves coming in and a grubby on a the way out. In the same heat top freestyler from Germany Adrian Beholz (Sailloft/Fanatic) was dominating over young French rider Sam Esteve (JP/Neilpryde) who didn't seem to have adapted to the conditions and couldn't sail on the level he wanted to.
In the ongoing heats, where most of the riders used their 4.8 metre sails, Jeremy Plüss managed to take out Rafa de Windt (F2) in a very close heat and Nic Hibdige from the UK showed his growing skills by advancing over Aron Etmon (Starboard/Severne) from Curacao. Very solid performances were also shown by Jacopo Testa (RRD/RRD) who defeated EFPT rookie Piotr Majcher (Patrik), Adam Sims (Sailloft/Patrik) and Mattia Fabrizi (North/Fanatic) who advanced over Paul Simmerl (JP/Neilpryde) and Loick Spicher (JP/North) respectively. Spicher was sailing with an incredibly powerful style in the gusty conditions yet unfortunately couldn't land his moves clean enough to give him an advantage over the Italian sailor.
Impressive to watch was also the young Italian rider Marco Vinante (JP) who has his debut on the European Freestyle Pro Tour here at Lanzarote. He could pull culos on both tacks, yet didn't manage to kick out the stronger sailing Antoine Albert from New Caledonia who has a lot of competition-experience. Hugo de Sousa (RRD/RRD) was putting together an incredible heat with a powerful style and incredible height in his moves and left Sebastijan Jancovich (Patrik) from Slovenia no chance.
The last heat of the day between Marco Lufen (JP/Neilpryde) and Dmitry Tertyshnyy (RRD) from Russia will be a resail tomorrow morning as the wind dropped throughout the seven minutes of competition which wouldn't have led to a fair result.
The forecast for tomorrow looks very promising and skippers meeting is set for 10.00am in the morning. We are looking forwards to see an action packed day where we will see the top seeded riders like Amado Vrieswijk (Severne/JP), Adrien Bosson (North/Fanatic), Yentel Caers (JP/Neilpryde), Davy Scheffers and Tonky Frans competing.
You can find the elimination ladder HERE