We started into day number two here at the EFPT Lanzarote with amazing wind conditions in the morning and a forecast that would guarantee an action-packed day with the remaining heats of the single elimination.
The competition kicked off with a resail of Marco Lufen (JP/Neilpryde) from Germany against Dmitry Tertyshnyy (RRD) from Russia. The young German sailor was absolutely killing it by sending big shakas, a future, a pasko and other clean power moves. He was dominating over the Russian rider who was struggeling to get his four counting moves per tack in. The German freestyler then sailed a super close heat against one of the world's best riders of this disciplin, 19 years old Amado Vrieswijk (Severne/JP) who had a hard time advancing over the JP/Neilpryde team-rider.
The other surprise of the day has definitely been Antoine Albert from New Caledonia who was taking out Hugo de Sousa (RRD/RRD) from Brazil who is the current number two in the EFPT ranking. The young rider who is living in France threw a clean pushloop as well as a very big and solid shaka on the way out as the waves been building. Amado Vrieswijk from Bonaire could eventually stop him but didn't have an easy time doing so. Vrieswijk could still convince the judges with culo combinations coming in as well as big air moves on the way out.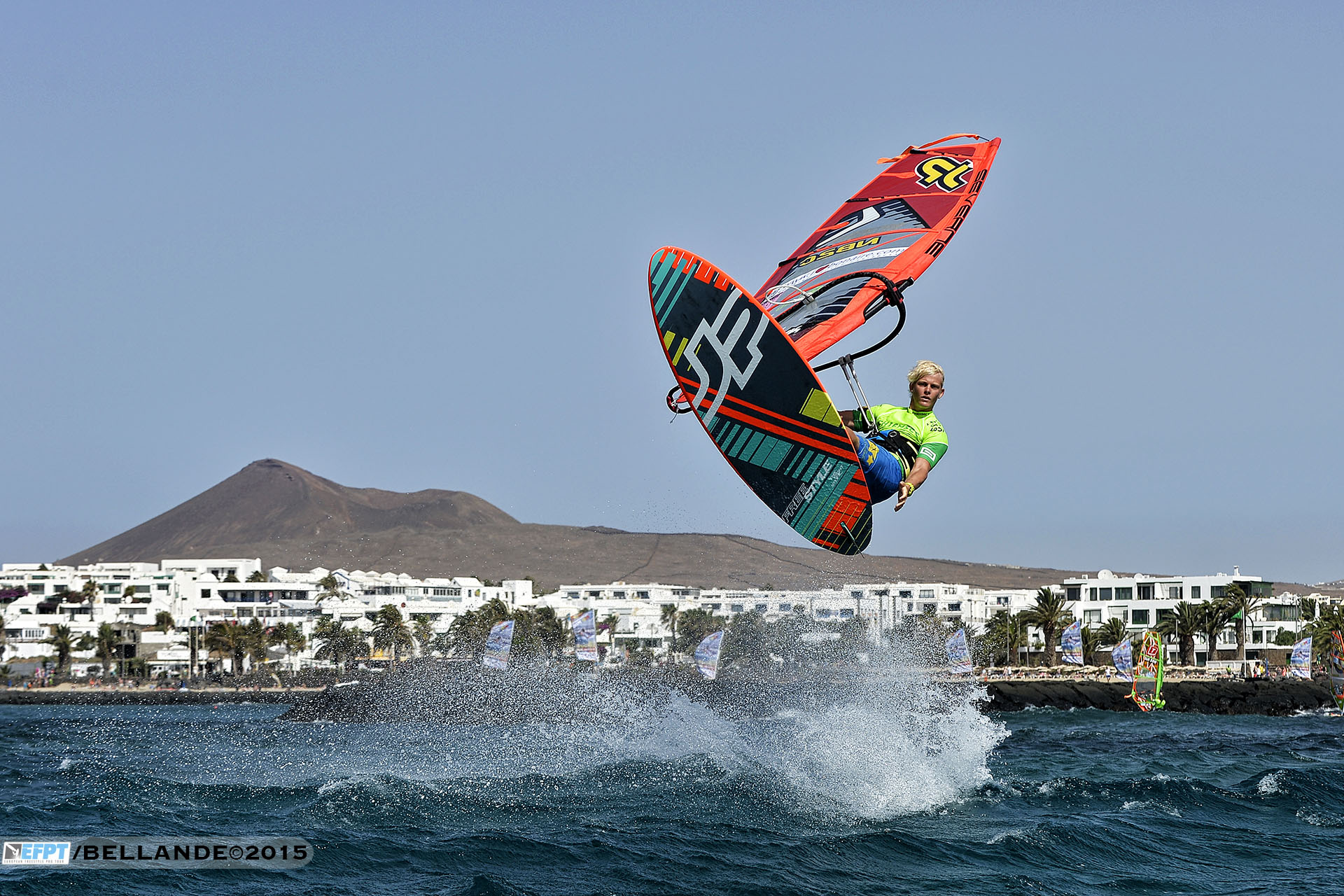 Yentel Caers (JP/Neilpryde) from Belgium proved his potential in the heat against strong sailing young Brit Nic Hibdige where he pulled a pasko as well as an air-chachoo and a future by using the waves on the way out. He then was taken out by French rider Antony Ruenes who impressed with his performance already yesterday and showed that he would definitely be one to watch out for concerning the top  three positions. The Frenchie threw huge shakas, high and stylish paskos, air-chachoos as well as his famous no-handed burners, funnell-combinations and massive konos in most of his heats. He was basically 'walking through' the single elimination taking down Adrian Beholz (Sailloft/Fanatic), Yentel Caers, Phil Soltysiak (Starboard) and could only be stopped in the winners final by local sailor Tonky Frans whose sailing has been unreal. He made his way up defeating Mattia Fabrizi (North/Fanatic) from Italy as well as Fabrizis North/Fanatic team-mate Adrien Bosson from France who was sailing decent heats with big konos both sides as well as skopus, a one handed burner and a really nice air-chachoo.
Frans on the other side landed his moves in a stylish and easy-looking way which made this freestyle arena look like a proper playground. Using the waves going out he landed nice backloops, perfect one-handed shakas and a pasko as well a sick burner 360 and nice funnell combinations on the way in.
The losers final saw Vrieswijk against Soltysiak who could seize all of his skilled sailing and competition experience to make his way up to fight for the podium. Just as the losers final started the sailors were changing up from their 4.4s to their bigger sails. Even in the dropping wind Soltysiak pulled culos both ways as well as super nice burners, a spock culo and a huge shaka. Vrieswijk tried to match it but couldn't put together the heat he was hoping for. In the end the decision favored the Canadian rider who therefor ended up in third place after the first single.
In the battle for the first place we saw Frans against Ruenes who both knew they had to give all they've got in order to win. The heat was a firework of moves with paskos, backies, huge shakas, air chachoos and a shove-it spock by Runes that was almost completely rotated in the air. Tonky Frans could win this close heat which led to an extatic crowd on the beach that celebrated their local hero.
Since the forecast looked good for the whole afternoon the double elimination was started pretty much straight away. Whilst some of the EFPT rookies had a hard time yesterday in their first heats, we saw some decent performances today. Remarkable has been Maxime Van Gent (North/Fanatic) who entered as the only girl and who was throwing a big shaka in her heat as well as a spock on the way out and semi-funnells and switch konos on the way in. Unfortunate for her was her draw against strong sailing Sam Esteve (JP/Neilpryde) from France who was on fire today and landed all of his powermoves including paskos and futures.
Also Marco Vinante (JP) from Italy deserves a mention. He took out Sebastijan Jancovich (Patrik) from Slovenia and Nic Hibdige from the UK, working his way up to face the winner of the heat between Beholz and Tertyshnyy. Vinante sticked some massive shakas, burners, culos both ways as well as a clean regular chachoo.
With the wind going up and down during the heat of Adam Sims (Patrik/Sailloft)against freestyler from Curacao Rafael de Windt (F2) had to be cancelled to then be restarted again. The Brit could put together a very solid heat, defeat the Carribbean sailor in a very close decision and advance into the next round where he will meet Fabrizi.
Due to the difficult conditions the amount of moves that would count were also reduced to three per tack. As the conditions were getting less and less suitable to run a competition we called it a day at 6.30pm and released all the riders.
The skippers meeting for tomorrow is schedulded for 9.00am with the first possible start at 9.30.