It will be the first time that a tour-stop of the European Freestyle Pro Tour will be staged at the windy shores of a Canary Island, which are well known to be the Mekka for windsurfers throughout the summer months when constant trade winds deliver perfect conditions almost every day.
Former pro windsurfer and EFPT champion Antxon Otaegui who grew up on Lanzarote and recently opened his Pro Center here, is the main organizer of the event at Costa Teguise which will start tomorrow fairly early in the morning. Whilst we have been welcomed with strong wind and sets with over mast high waves, the conditions are forecasted to decrease slighty during the next days but will stay very decent throughout tomorrow morning and midday. That is also the reason why the registration was scheduled for tonight with many big names signing in: Amado Vrieswijk (Starboard) from Bonaire travelled to Lanzarote together with his team-mate and friend Dieter Van der Eyken (Starboard), current EFPT champ Steven Van Broeckhoven (JP/Neilpryde) entered as well as Mattia Fabrizi (North/Fanatic), Jacopo Testa (RRD/RRD) from Italy and top Dutch riders Davy Scheffers (Tabou/Gaastra) and Rick Jendrusch (F2). The only French and English contenders this time will be Nicolas Akgazciyan and Adam Sims (Sailloft/Patrik) respectively. Latter arrived on site with his left hand in a bandage as he broke his finger during training in Fuerteventura. Also Youp Schmit (JP) who is always a rider to look out on suffered an injury of his knee just a few weeks ago. Both riders looked like they were having a hard time on the beach and are eager to compete. Unfortunately Youp Schmit had to pull out of the competition last minute and will have to watch the action throughout the next days.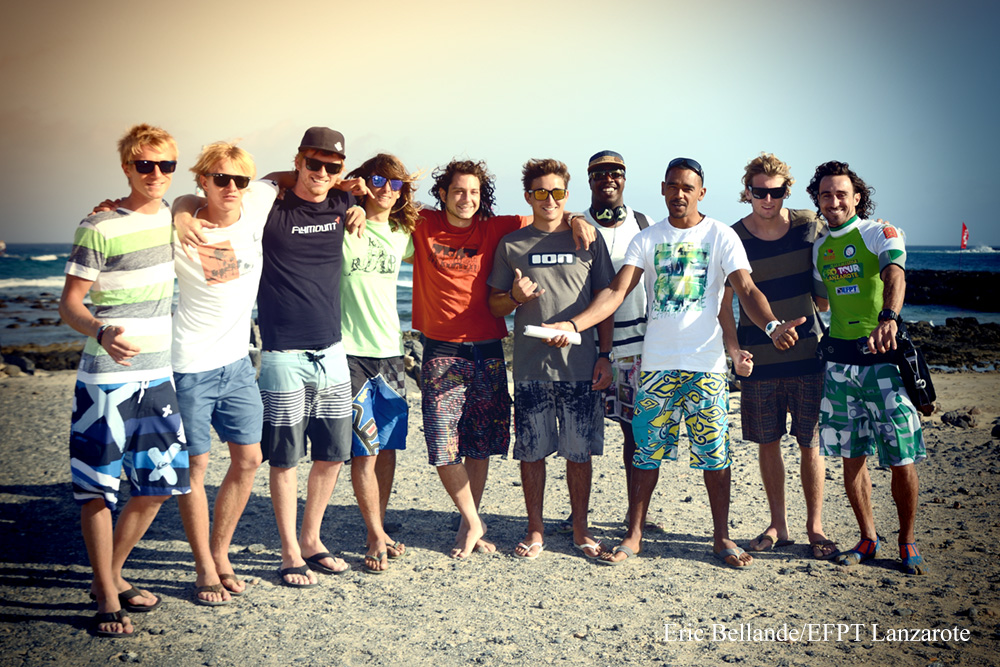 Very high talented and impressive sailing Brasilian Hugo De Sousa (RRD/RRD) will have it's debut on the European Tour, just as Aaron Etmon (Starboard) from Curacao, Florian Wegerer from Bonaire and Noah Vocker (North/Fanatic). It is always good to see new faces on the tour as well as riders who skipped one or two seasons and are now ready to get back into the game just as Loick Spicher and Jeremy Plüss (Tabou/Gaastra) from Switzerland who convinced with a highly impressive performance at the last PWA stop in Bonaire.
All the riders and the crew are hosted in the beautiful Sands Beach Hotel straight at the  beach. We would like to give an extra shout out to the management of the hotel for supporting the event and for making sure that all the sailors can focus 100% on the competition without having to worry about anything else.
Skippers meeting for tomorrow is scheduled for 08:00am to guarantee that the first heats can be started as soon as possible. With a fleet full of high class sailors we can expect some exceptional action. A live social media stream will be available at our homepage (efpt.net) where you can see updates from the EFPT crew and the sailors to give you the best possible insights of what is going on on site.
For more live updates make your to follow us on our social streams:
Facebook: https://www.facebook.com/EFPT1
Twitter: http://twitter.com/#!/EFPT2011
Instagram: http://instagram.com/EFPTour