Being one of few windsurfing events this season, riders and crew have been waiting in excitement for the Vanora Engadinwind by Dakine to kick off today. Twelve riders registered for the EFPT tow-in and travelled to this lake Silvaplana from nine different nations. Running this event with a high number of participants out of numerous countries worldwide is only possible due to a great organisation and a lot of respect for the health safety measures by all the riders, crew and spectators.
Tow-in modalities
Two qualification fleets, with six riders respectively, have a total of four runs each over the period of the first two competition days. The highest score out of the four attempts will count and possibly secure a place in the final on Saturday, where the top six will battle for the podium positions and € 3.000,- prize-money. Since the EFPT at the DAM-X later this year is not confirmed yet, this might also be the place where there EFPT tow-in champion 2020 will be decided.
Fleet 1
First on the water have been Sarah Quita Offringa, Taty Frans (Point 7), Antoine Albert (Goya/Goya), European Champion 2019 Yentel Caers (Point 7) and Stefan de Bell. The fleet of six will be completed by local Jeremy Plüss, who will join in from tomorrow onward. The riders could decide if they wanted to have the boat create a ramp or to show their tricks in flat water. Sarah Quita who joined an official EFPT tow-in for the first time and is the first official female competitor in this discipline kept her nerves and landed an air funnel (4.00 points) and a burner, leaving her in third place of this fleet for now. Antoine Albert circled through an air burner 360 (6.69 points) but couldn't overscore Yentel Caers who went for a culo 360 to pulled the highest points (8.25) of fleet 1.
Fleet 2
Fleet number 2 was sent on the water straight afterward with Niclas Nebelung (Duotona/Fanatic), Aron Etmon, Riccardo Marca (Duotone/Fanatic), Amado Vrieswijk (JP), Lennart Neubauer and Steven Van Broeckhoven (Gunsails) ready for the show. Niclas Nebelung won the tow-in competition at the Boot exhibition earlier this year and had his debut in an official EFPT tow-in today. It's always good to see new riders step up from national competitions to the international ones. The show has been a pleasure to watch with Amado, Steven and Lennart shooting through technical double moves in all of their runs. Highscore of the day has been put down by 16 years old Lennart Neubauer, who landed both of his moves with dry hair, but outmatched everyone with his 8.8 points air burner funnell combination. Amado came in second with an air funnell buner (7.69) and Steven came in third with an air burner 360 (7.5 points).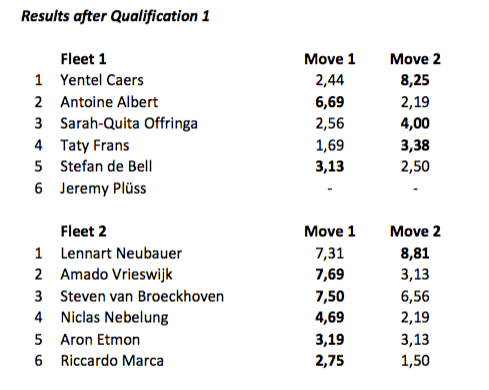 Foilstyle
Just after lunchtime, the onshore Maloja wind kicked in being as reliable as it gets. Nine men and three women registered for the Foilstyle World Championship. The riders had 30 minutes to show their best tricks and were judged based on overall impression in the categories powermoves and carving moves. The onshore thermic wind provided perfect conditions, that were rather on the strong side for the foil freestylers gusting up to 20 knots. It was impressive to see how the level exploded compared to last year. Local heroes Balz Müller and Michi Naef showed foilstyle on a worldclass level, so did Steven Van Broeckhoven and Lennart Neubauer, who just recently picked up on this new discipline. Antoine Albert showed some decent moves himself and some other local riders got involved to wow the crowd with frontloop and backloop attempts. Balz Müller landed perfect culos, burners, forwards and a clean backloop as well as smooth carving maneuvres, to claim first place after day one. At his heels has been Michi Naef, who stomped the most perfect skopu. Taking third has been Steven Van Broeckhoven who improved his level dramatically since last season. Also the multitalented EFPT junior Lennart Neubauer performed on an extremly high level, showing technical powermoves as well as fun carving maneuvers.
In the ladies fleet it has been once again Eva Wyss who dominated over Anina Heimoz and Laura Rudolph. All the girls were on their smallest sails to show downwind 360ies, chop hops and even shove it attempts (Wyss). Anina came in second and Laura claimed first after the first day of competition.
The tow-in fleet will see another early start tomorrow at 10.00 am, where the places for the final will be decided. The qualification rounds as well as the final are being livestreamed on efpt.net/live with live commentary by Ben Proffitt and Balz Müller, who unfortunately injured himself in the week before this event and pulled out of the tow-in competition.