This month's spot guide will take you all around Aruba! This windsurf mecca in the Caribbean is Sarah-Quita's homespot, and she has written us an amazing spot guide. Sarah-Quita shows us the best spots to windsurf as a beginner or as a pro, and tells us about the best activities on the island, including getting a great coffee (an essential if you want to stay as stoked as Sarah-Quita!). Read on to learn as much as you can about the happiest island around, and get stoked to plan your next windsurfing trip there!
Aruba is a tiny island in the Caribbean, right off the coast of Venezuela. We officially speak Dutch, but our local language is a creole mix of Spanish and Portuguese. Besides that, everyone speaks English as well. Aruba's slogan is "One happy Island" and this is something that every local carries with them, the locals are all very welcoming.
In the 90's Aruba was a highly frequented location for the windsurfing world cup. This was when guys like Bjorn Dunkerbeck, Josh Angulo, Antoine Albeau, Karin Jaggi, and others would come and battle it out in the turquoise waters, and chill on pearly white beaches. To this day, Aruba is still one of the most well known places in the world to windsurf. It's a spot for all levels of windsurfing, especially at the shallow and flat water of the fishermen's huts, where it's easy to pick up windsurfing. The trade winds blow about 10 months during the year, So when I started windsurfing it was the perfect place to learn and progress quickly!
In 2001, freestyle became the new big thing. So, all I saw and knew was flipping sails, jumping 180 degrees and sliding another 180 degrees, forward loops, body drags – you name it. Freestyle became especially popular in neighbouring Bonaire, where the local guys were at the forefront of this freestyle era. I very soon followed suit and all I could think about was learning the next move. Getting planing was the reason I got hooked to windsurfing, but the sensation of jumping through the air and sliding the last part to finish the moves was such a rush!

The Journey
Aruba's fairly simple to get to, and it's a small island, so getting around is easy if you have a car! If you're travelling from Europe you will have to go through Amsterdam Airport. You can either fly KLM or TUI. I'd recommend TUI if you have many bags, since they charge 40-50 euros per bag up to 32kg. KLM on the other hand offers a deal where you can exchange your luggage for a surf bag (up to 23kg). More bags or heavier than that will cost you 100eur each. This is of course only useful if you're a light traveller.
You definitely need to get a car to get around. Everything on the island is easily accessible, and there's generally no need for a 4×4. Aruba is a small island and the longest you will have to drive is to Boca Grandi and Rodger's beach, which will be about 35-40 minutes from town. The nicest areas to live or rent a place are more towards "Noord", which is towards the North west part of the island. That's where the most hustle and bustle is of the island, meaning you can fully enjoy all that Aruba has to offer!
The Spots
Fishermen's huts
Fishermen's huts is the most famous spot on the island, and is located Northwest on the island. (The area is called Noord or Malmok). Everybody learns how to windsurf here, as all the surf centres are located there as well. The wind is offshore, but there are always boats for security, so anyone can go in and commit to their surfing. It's windy from 9 AM onwards, and the wind usually drops towards sunset time.
It's waist deep where the centres are and depending on the time of year takes about 50 m before it gets deeper. When you are more advanced you want to go further out to have more consistent and cleaner wind. About 100 m out on the reef is where I have spent hours and hours freestyling with my brother. We call it the redflag.
Fishermen's huts is usually quite flat due to the reef. However, when there is a swell there is a perfect and really fun wave. It's always fun to time the wave ride correctly, which leads to launching into much bigger moves! Even further out, on the blue highway, is where the most advanced tourists sail and where I will also train slalom and foiling. I love sailing here in the morning, as the water colours are incredible.
Barcadera
Barcadera has become one of my favourite spots over the years. It's located right after the airport, more towards the South-West of the island. In the morning the wind is more side shore, and later in the day it switches to a bit side-offshore. This afternoon direction just seems to have those extra knots of wind, and a bit of a steeper chop to be able to launch into bigger moves. When I'm looking for a challenge or more elevation and power in my move, this is where I go. Who am I kidding, I go there all the time! This is my go-to spot to train freestyle these days.
Barcadera is a lagoon between the main island and the reef, right across from where lots of mangroves grow. The wind gets accelerated here, which gives the gust that extra punch.
There are lots of boats that go in and out of the lagoon there, and sometimes the wake they create is big enough to try stalled forwards and huge shaka's. Morning time around 10-11 AM is the best time to go, because the wind is usually more south. This direction fills into the bay perfectly, and later in the day it becomes more North east and gustier. Barcadera is the spot for intense fun and a challenge!
Boca Grandi
"Big Mouth" was originally a windsurf spot, but now is crowded with kiters. It's located in the South-East (or "the other side" of the island, as I will usually say). It's about a 45-minute drive from fishermen's huts. It seems far, but once you're there it's like you travelled to a completely different island. It's like a breath of fresh air being at Boca Grandi.
The wind at Boca Grandi is onshore and super stable. When it gets really windy, and the right swell period is present, it's actually quite a lot of fun to windsurf at. Boca Grandi works in the morning hours, so people are on the water as early as sunrise. Later, at around 12pm, the wind drops.Then around 3pm it will pick up again and stay windy until dark.
For some nice food afterwards, you could either go to Kamini's kitchen or to Colorado shack. For a quick smoothie on the way up you should stop at mauchi's smoothies in Savaneta.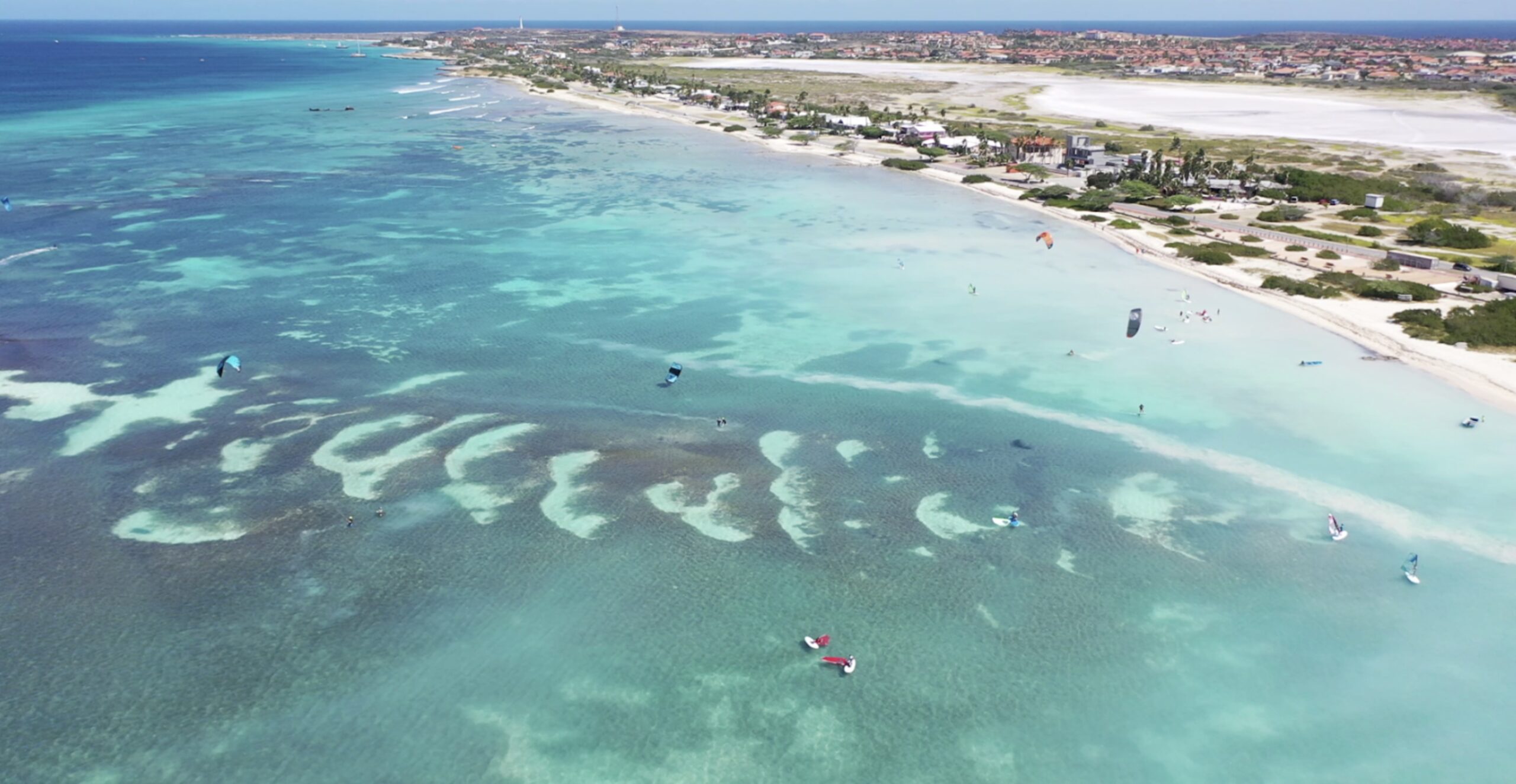 Rodgers beach
Rodger's beach is located further South from Boca Grandi and is actually the tip of the island. Baby beach is a tourist attraction because of the turquoise colours and all around shallow water, but when you hop over to the next bay, "rodger's beach", you can do some serious wave sailing.
I only really discovered this in about 2017 when Phil Soltysiak from Canada asked me to join in on his freestyle sessions, as he said he was having lots of fun. I couldn't believe it! I always thought the wind was light, but on those days it was awesome to practise moves like pasko's and big shaka's. Later when Phil left I was still very curious about this spot. Somewhere in 2018 my brother Javier and I totally scored it wavesailing and jumping it fully powered on 4,7. It was very similar to riding in Tenerife, I couldn't believe it!
Unfortunately, I can't say with certainty when it works, but I'm sure the best time is in the windy season from February to May. Rodgers beach tends to have the same wind pattern as Boca Grandi, with the wind dropping in the middle of the day.
Westpoint
Westpoint is the original wave spot from back in the day. This spot is located on the Northern tip of the island. The waves wrap around the point there, and I have scored a great wave there a couple of times! It's generally a fun waveride, and I've sailed it up to overhead high.
The Island
Other than windsurfing, there's also lots of other activities to do on the island. Surfing, snorkelling, mountain biking – there's something for everyone! The best spots for wave surfing are Wariruri Northeast, Shipwreck North-west (which is right next to fishermen's huts), and Arashi North (right before Westpoint). If surfing's not for you, there is some beautiful snorkelling at Boca Catalina, or diving at several shipwrecks around the island. For hiking lovers, the most famous hill to climb is the "Hooiberg", which is about 100 metres high, and offers you a 360 coastal view of the island. Golf lovers might go to the golf course on the island (on non windy days), and for a nice relaxing afternoon you can walk to the natural pool to have a dip there.
Apart from the watersports and relaxing, Aruba offers a great night life as well! Near the high-rise hotel, which Is the most touristy area, you will find a lot of restaurants and bars. I personally like catching happy hours at a beach bar, and watching the sunset. Bugaloe and Pelican pier are great for those sunset evenings, but there are many more bars that offer that as well. For a fancier dinner you can check out Bohemian, Bruto, and Taste My Aruba.
For a nice take-away, I would recommend Eduardo's hideaway in Noord for a quick and healthy breakfast or lunch. Grabbing a coffee is always good at Island grind. Otherwise, Craft (the "it" place at the moment) is great for coffee, breakfast and even happy hour drinks!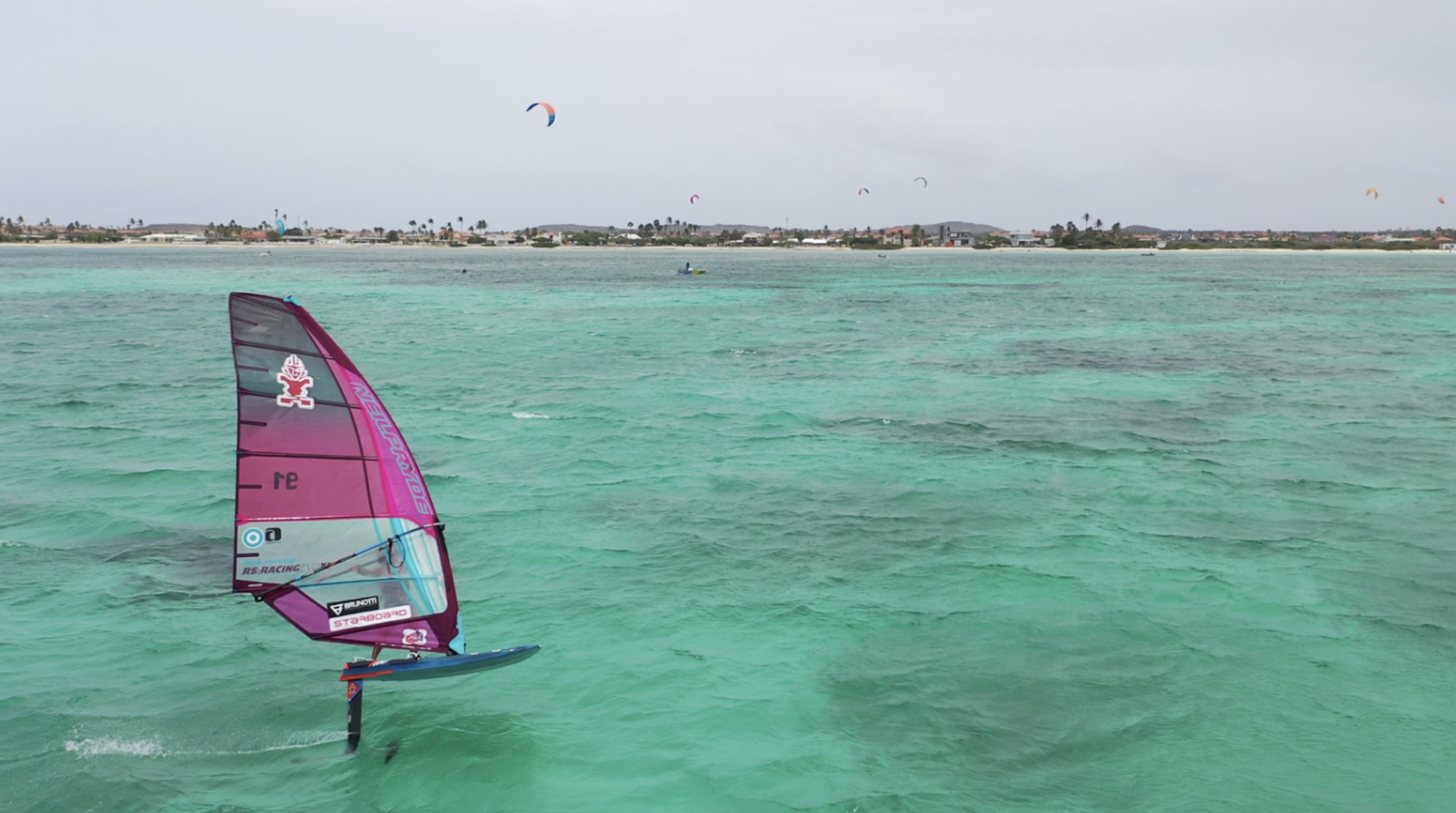 After this detailed read we're super stoked to jump on a plane straight to Aruba! We would like to thank Sarah-Quita for her insights into the spots, her knowledge of the wind, and of course for her extensive sampling of Aruban coffee 🙂