Since the European Freestyle Pro Tour was founded, the events were not only a place for the pro windsurfers to face each other and battle for the European title, but also a great oppurtunity for up and coming talents to gain their first international competition experience. Former EFPT rookies like Johnny Yagen (RRD/RRD) and Riccardo Marca (North/Fanatic) were making their first baby steps in the pro freestyle windsurfingscene in the past years and are now regular contenders for the top ten positions in the EFPT and top 25 in the PWA.
This time we would like to present you another fresh face in the freestyle windsurfing circuit: Alexandre Mertens (North/Fanatic) from California. The young American with Belgian/Filipino roots will give his debut on tour at the DAM-X event in Brouwersdam, from the 12th-15th of October 2017.
EFPT: Alex, can you tell us some things about yourself?
Alex: Im an 18 year old who lives in California. As for what I do, haha I windsurf 🙂
EFPT: When did you pick up windsurfing and what was your motivation?
Alex: I started windsurfing five years ago. Before windsurfing I was really into football/soccer but I was injured really badly with a torn Achilles and a major concussion. So I was less motivated to play football because of how often I would get hurt. So my dad made me try windsurfing and I wasn't super into it until I took a windsurfing class with ABKBoardsports and they got me planing for the first time. From there I was hooked!
EFPT: What are your favorite things to do when you are not windsurfing?
Alex: When I'm not windsurfing I love filming and editing videos. But as well as editing videos I love making music with one of my friends as well.
EFPT: Where do you train? Who are your training buddies?
Alex: My normal spot of training is a spot called Rio Vista in California as well as Candlestick Park in San Fransisco. But I also travel to Bonaire in the spring and La Ventana in the Winter. I train a lot with one of my friends in Rio Vista who also travels to La Ventana but unfortunately he lives five to six hours by car away so we only get to sail in winter and some weeks summer.
EFPT: What's your favorite place to sail and where is your dream destination?
Alex: One of my favorite places to sail is definitely Bonaire because of the board shorts weather and the shallow water all over.
EFPT: When did you start with freestyle windsurfing and what are your best moves?
Alex: I started freestyle windsurfing three years ago because of a video that popped up in my facebook feed. Before that I had no clue that freestyle windsurfing even existed, but after that video knew that that was exactly what I wanted to do. Right now my best moves are Skopu and Burner 360 but I will be learning more 😉
EFPT: Which moves are you working on at the moment?
Alex: I am working on air-skopu and I want to try more shifties but I don't want to give myself another concussion and ruptured eardrum haha.
EFPT: Who would you like to have a session with? Do you have role models in windsurfing?
Alex: I'd love to have a session with anyone hahah! I love sailing with other freestylers especially when they are around my age 🙂 It gives me so much motivation, because where I'm from, I am one of the only freestylers around my age. I definitely have some role models in windsurfing but one of the biggest ones for me would have to be Philip Soltysiak (Starboard), because of the positive vibes that he always shows and how he always manages to keep a cool head even under heat. He is a big inspiration to me and I hope I can become someone like him in the future.
EFPT: What is the best windsurfing session you remember?
Alex: Honestly I cannot remember THE best session because all of them are just so awesome! 🙂 Some are super scary sessions where you can barely hold on to your 3.4 and some are 4.8 slogging around and messing around with your friends. Every session is the best just in different ways! 🙂
EFPT: The EFPT event at the DAM-X in Brouwersdam, Holland will be your first international freestyle event. It is quite a long journey for you to go there. What are your feelings concerning this?
Alex: I am SOOOOOOOOO excited for it! When I found out about the international competitions for freestyle I've always wanted to go to one just to watch. But now I can say I'm going to one to compete so I am beyond feelings right now!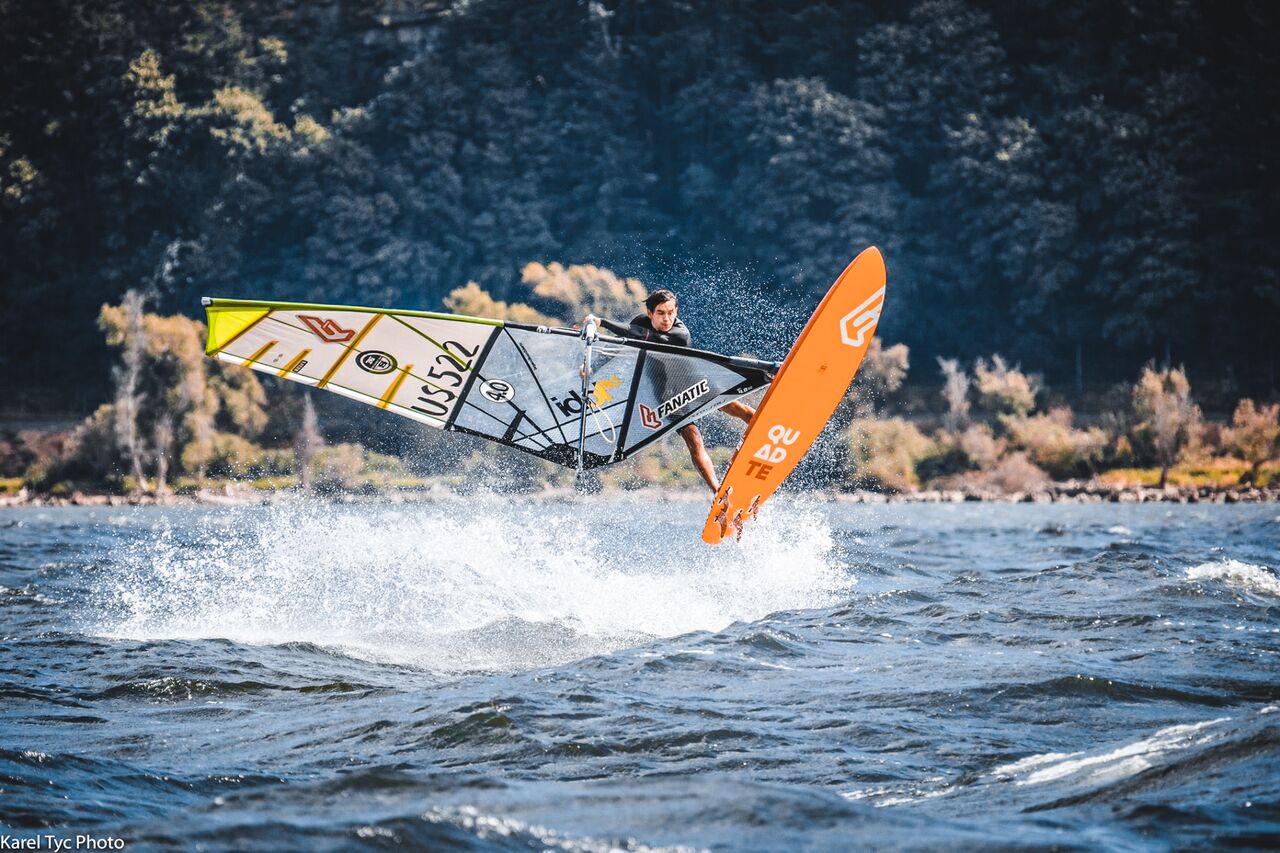 EFPT: Have you been to Europe before? What are your expectations?
Alex: I normally travel to Europe every other year to visit family in Belgium and France because I am a first generation American and have only one cousin in the States. We normally visit Malmedy and Chatres so there isn't any windsurfing on those vacations but last year we went to Roses, Spain and Leucate in France and that was some of the most epic windsurfing I've experienced EVER. Also everyone was so surprised to see an American number on the water it was all quite funny 🙂 My parents used to sail Brouwersdam before the freestyle started up and they always tell me about how cold it can be and how fun it was, so I'm pretty excited to see how it is! I got my thick wetsuit ready 😉
EFPT: Did you always want to compete and are you planing on doing more events next year?
Alex: I've always wanted to compete from the moment that I found out that competitions existed for freestyle. In California, at least, windsurfing is nowhere near as popular as it is in Europe. You could ask someone on the street if they know what it is and they will think its kitesurfing or never heard about it. Otherwise I plan on doing much more competitions next year and hopefully follow the EFPT a little more on its tour 🙂
EFPT: What are your future plans concerning windsurfing and life in general?
Alex: My dream is to become a regular contender on the PWA tour but I know that I've got a lot of work to do before that becomes reality. I feel that I have the motivation to do so and I'm so thankful that my parents support me with my dream because without them, none of this would be possible. I will be studying Graphic Design in school so I am hoping that someday in the future when I'm done with school, I can use what I learned in the windsurfing industry. This sport is so incredible I definitely don't want to leave it.
EFPT: Thanks Alex! Looking forwards to see you compete in Brouwersdam!

Summer 2017 from Alex Mertens on Vimeo.