The EFPT event in Vieste is approaching rapidly, and with it our second Rookie Camp of the year! After a successful weekend in Austria, led by Head Coach Dieter van der Eyken, it is now time to move to warmer waters and explore the future of freestyle windsurfing there. Taking place on the 4th and 5th of June the rookie camp will introduce you to the secrets of competition, all while improving your freestyle skills and meeting pro windsurfers and likeminded aspiring freestyle windsurfers.
Check out the action from our Rookie Camp in Austria here, to know what to expect:
Hard Facts
Registration: Register HERE/ Sign-Up closes the 3rd of June 2022
Meeting Point Start: Saturday 4th of June 9:30 – 10:00 am @ the event site
End: Evening of the 5th of June after the prize giving around 8:00 pm.
Equipment: Participants can store their equipment at the event site during the days of the camp.
Costs: 2 Day Camp 150€ per person
If there are rookies who can only join the afternoons after school from 2pm, they've got the option to pay 50€ less and join in. The schedule gets adjusted, so they won't miss the most important elements of the camp.
Daily schedule Rookie Camp Vieste
The following is just a general schedule. It can drastically change depending on the wind and weather forecast. For example if it's only windy in the morning, the day can take place in reverse order. Also if there is kids, that can only join in the afternoon because of school, the schedule might get adjusted according to that.
Day 1
Morning: Registration and meeting everyone at the event area.
Forenoon: Learning about competition format (scoring, flags, timing, area, judging etc.)
Lunch: Eating all together, preferably close to the spot or at the EFPT event organizers center.
Afternoon: Exploring the spot, learning about the prevailing wind directions, currents, tides (or also dangers of the spot)
Late afternoon: Hitting the water for 1-2 hours, sailing all together, having fun, practicing moves, the coach is giving tips or he will be filming for the video analysis.
Evening: Meeting other pros
Day 2
Morning: Reviewing last evenings session and analyzing moves that were filmed. The coach will give individual tips. And in demand, he will also individually recommend which moves to use in the heat and plan a basic heat strategy.
Forenoon: Hitting the water again, practice more.
Lunch: Time for a break and food. We'll need the energy!
All afternoon: Practice-competition (trying to make is as real as possible).
Evening: Prize-giving and dinner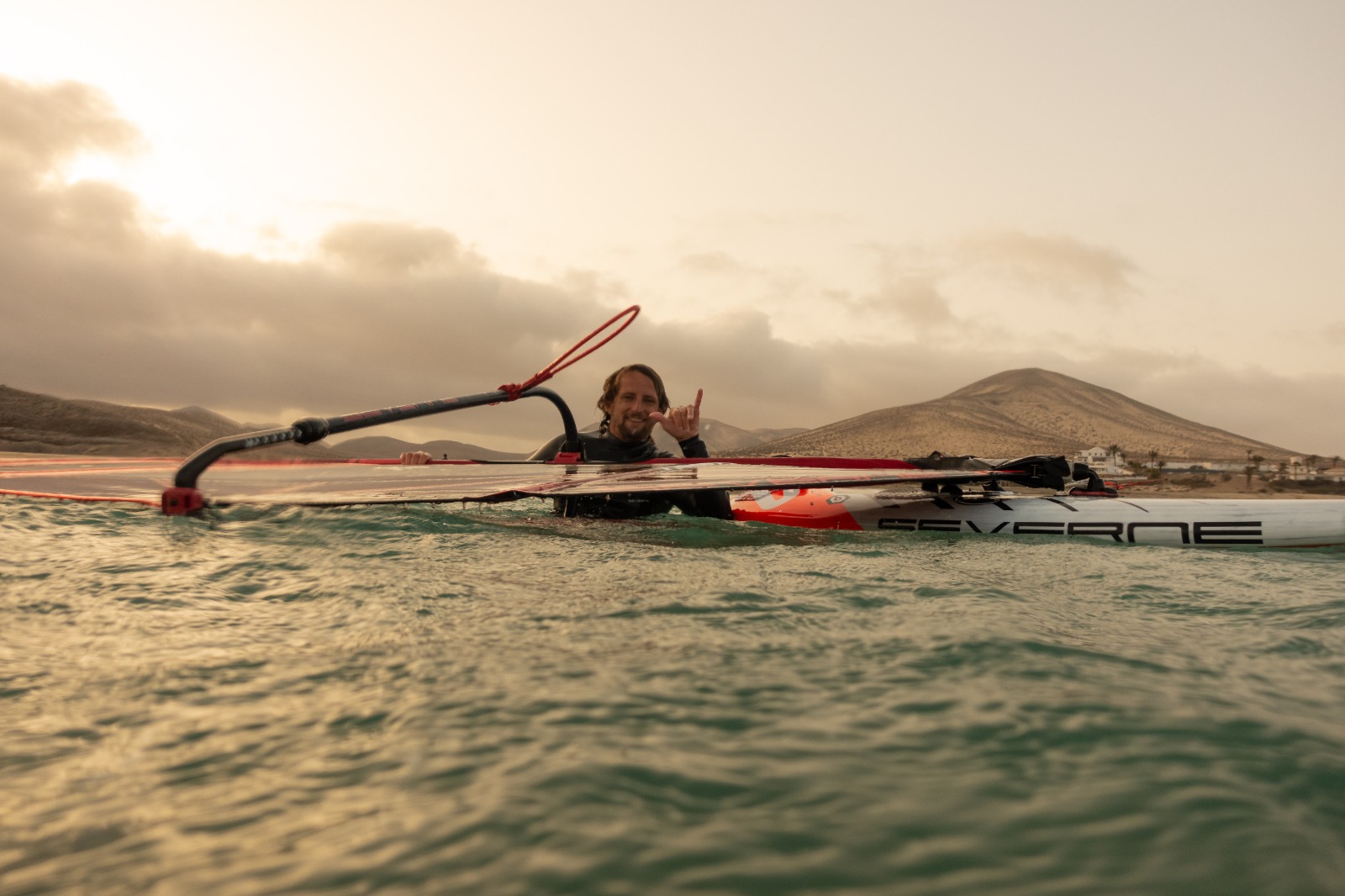 We asked Head Coach Dieter van der Eyken about his motivation to run the camps:
Dieter van der Eyken: "I'm really stoked to get the opportunity to become the head coach of the FPT rookie camps and help the next generation get to the top. It's the idea of bringing the next generation to a new level that got me originally into coaching back in 2012 & 2013 with my Next Generation Camps at Sardinia and still till today is my favorite group of students in coaching. Over the last years I have expanded my coaching activities here on Tenerife and this has given me more experience time to become an even better coach than before. To not only pass through my knowledge of sailing but also my knowledge of over a decade of competing on the highest level will allow a new generation to boost their level quicker both in free training and competition sailing due to this unique concept of the FPT."