After having an action packed day yesterday, filled with tow-in qualification fleet 2, the junior tow-in and the big final, today started super easy with not much schedulded program other than hoping for the wind to increase. With overcast weather, the tramontana unfortunately didn't push through and the competition had eventually been called off at 4.30 pm.
On this lay-day here at Costa Brava we took the chance to talk to one of the junior riders: Mathis Mollard (JP/Neilpryde). Mathis made his first international appearance at this event and straight away made it into the tow-in final with the pros. We are looking forward to see him competing in the freestyle as well and seized the time now to learn more about the upcoming talent from France.
EFPT: How old are you?
Mathis: I am 16!
EFPT: Where are you from?
Mathis: Lyon! But I live in La Palme, close to Port la Nouvelle!
EFPT: When did you start to windsurf / freestyle?
Mathis: I started when I was four years old. My parents windsurf, so they got me into it!
I started to freestyling with 11 years, when I moved to La Palme. I also do some wavesailing. I can do forwards and backloops, but I prefer freestyle and all the tricks!
EFPT: Where is your homespot?
Mathis: Le Rouet!
EFPT: What is your favorite training location?
Mathis: Le Rouet – it's very very flat and always windy. I prefer strong wind – like 30/40 knots! I actually only have 3.8 and 4.2. I borrowed a 4.5 for this contest.
EFPT: Are you aware that people think you are the Sam Esteve Mini-me?
Mathis: (laughs) Yes I heard! I also prefer starboard tack I think – like Sam!
EFPT: Do you do any other sports apart from windsurfing?
Mathis: I skateboard and I surf. There are some nice surfspots around Port la Nouvelle, but it doesn't happen too often. We surf maybe 15 – 20 times per year.
EFPT: Who supports you?
Mathis: My sponsor is a surfshop in Leucate – Windsurf Leucate. They give me a sail and board on loan for the season and of course also my parents help me out!
EFPT: How do you like your first EFPT event?
Mathis: I like the people here, everybody is so nice, always smiling! Yeh i like it a lot!
EFPT: What would you say to other juniors, if they are thinking about going to an event?
Mathis: For the juniors it's like a dream to go to events like this and to become a pro. We are only six juniors here and I don't know how many are out there, but I think it's super important that they come to events like this. Otherwise the sport is finished in ten years.
EFPT: Did you know the other juniors before? How is the feeling in the group?
Mathis: I knew Nil Bacon from the Leucate freestyle contests. I met all the others here for the first time. They are really nice boys, we all practice english – Eugenio and me we speak bad english, so we understand each other well (laughs). The windsurfing is our passion, so we share that and it' has been so great to meet them.
EFPT: Will you participate in the other junior events?
Mathis: It's my first time with the EFPT and I don't know if I can do the EFPT in Lanzarote because I have exams. If I have time I will come to DAM-X for sure though!
EFPT: What are your expectations for this event?
Mathis: I want to be top three of the juniors in freestyle and top ten in the men! If there is a lot of wind then it's maybe possible! I want 40 knots!!! Like 3.8 and 85 lt! Strong wind is the best, so I can do the big tricks.
EFPT: You have been doing really great in the tow-in at this event! How do you like it?
Mathis: The tow-in is really different to normal windsurfing! It's really difficult and you go so fast – like 60 km/h- I was scared at first but it was really nice in the end! It's good, but I prefer the real windsurfing – like everybody I suppose.
EFPT: Who is your favorite freestyler?
Mathis: I love Balz Müller. He is so crazy and really good. He loves the strong wind like me!
EFPT: What are your favorite moves?
Mathis: Air skopus!!!
EFPT: Which moves are you training?
Mathis: Air funnel burners! I trained it in the tow-in today, but it was really difficult to keep the speed in tow-in and in windsurfing if you go for this second rotation. I want to do double culos as well! But its really hard!
EFPT: What are your goals in windsurfing?
Mathis: That's a tough one.. I think it's difficult if you are first and the best in the world and everybody knows it. I think people have a picture of you and you have to live up to it. I'd rather be somewhere in the top ten. I think that's good and you can keep the fun!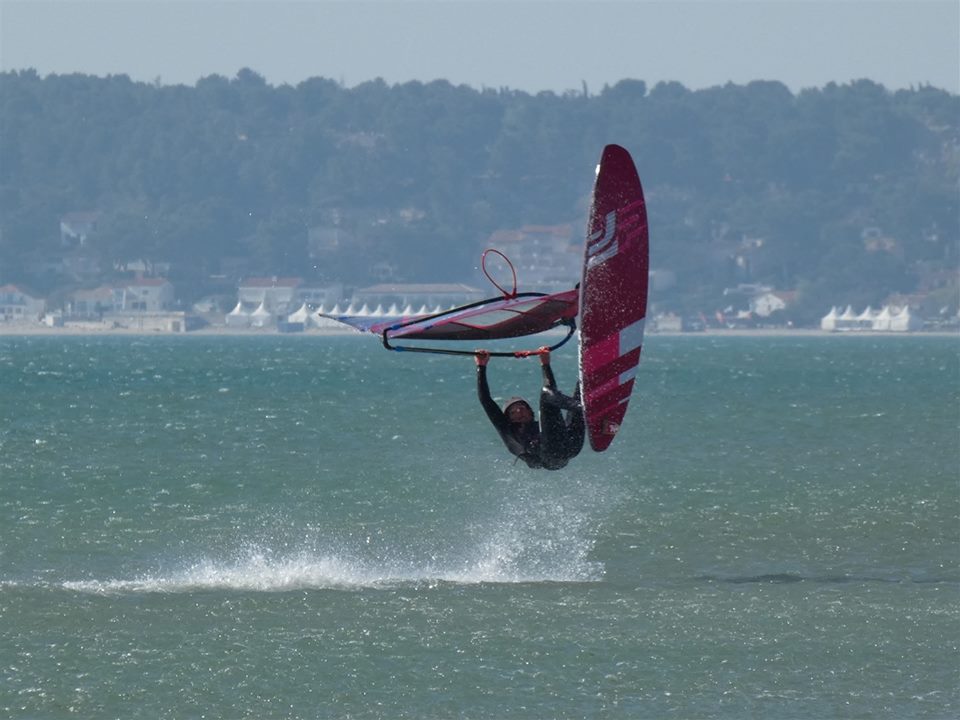 EFPT: Who will be the top guys here you think?
Mathis: I think Yentel can be good in all conditions. Maybe Sam if the wind is strong because he can do tripple air funnels or air funnel funnel burners. Steven is also really good! It will be tough!
In the juniors I think Lennart will be strong in all conditions but especially in the light wind and I am not good in the light wind. Nil I think will be on top too! Stefan is a good competitor as well, but I think in lighter wind – he does spock culos in like 15 knots!!!
EFPT: Anything you want to add?
Mathis: I am really hoping for strong wind on Sunday, because I dont even know how my 4.5 works!