Have you been wanting to take part in an EFPT event but were not sure how to approach it? This might be your ideal opportunity. The second EFPT Rookies Camp will take place at the Theologos Surf and Kite center in Greece, on the 3rd, 4th and 5th of September, prior to the EFPT Theologos competition. At this beautiful location that is perfect for coaching on and off the water, our headcoach Julian Wiemar will be joined by pro windsurfer Jacopo Testa to inspire a new generation of competitors. Three days of competition coaching will be closed off with a a practice competition where one of the participants will be able to win a brand new AV-Board! To top it all off, the rookies will have plenty of opportunity to meet pro freestyle windsurfers that will arrive before the event. To get all the details and scheduling, read on!
Julian Wiemar: 'Do you want to learn more about freestyle windsurfing contests, how to compete, and you'd like to push yourself on the water with a group of other rookies? Come and join our second Rookie Camp of the year in Theologos and get ready and confident for the EFPT competition.'
HARD FACTS:
Registration: For registration please klick HERE / Sign-Up closes 1st of September.
Maximum Attendance: 20 riders with no maximum age
Meeting Point Start: Friday 3rd September, 10:00 am @ Surf & Kite Theologos Center.
End: Sunday evening 5th of September after the prize giving around 8:00 pm.
Equipment: Participants can store their equipment at the surf school during the camp
Costs: 3 Day Camp is 200€ per person, 2 Day Camp (Saturday & Sunday) is 150€.
If there are kids who can only join in the afternoons after school from 2pm, they've got the option to pay 50% less and join in. The schedule gets adjusted, so they won't miss the most important elements of the camp.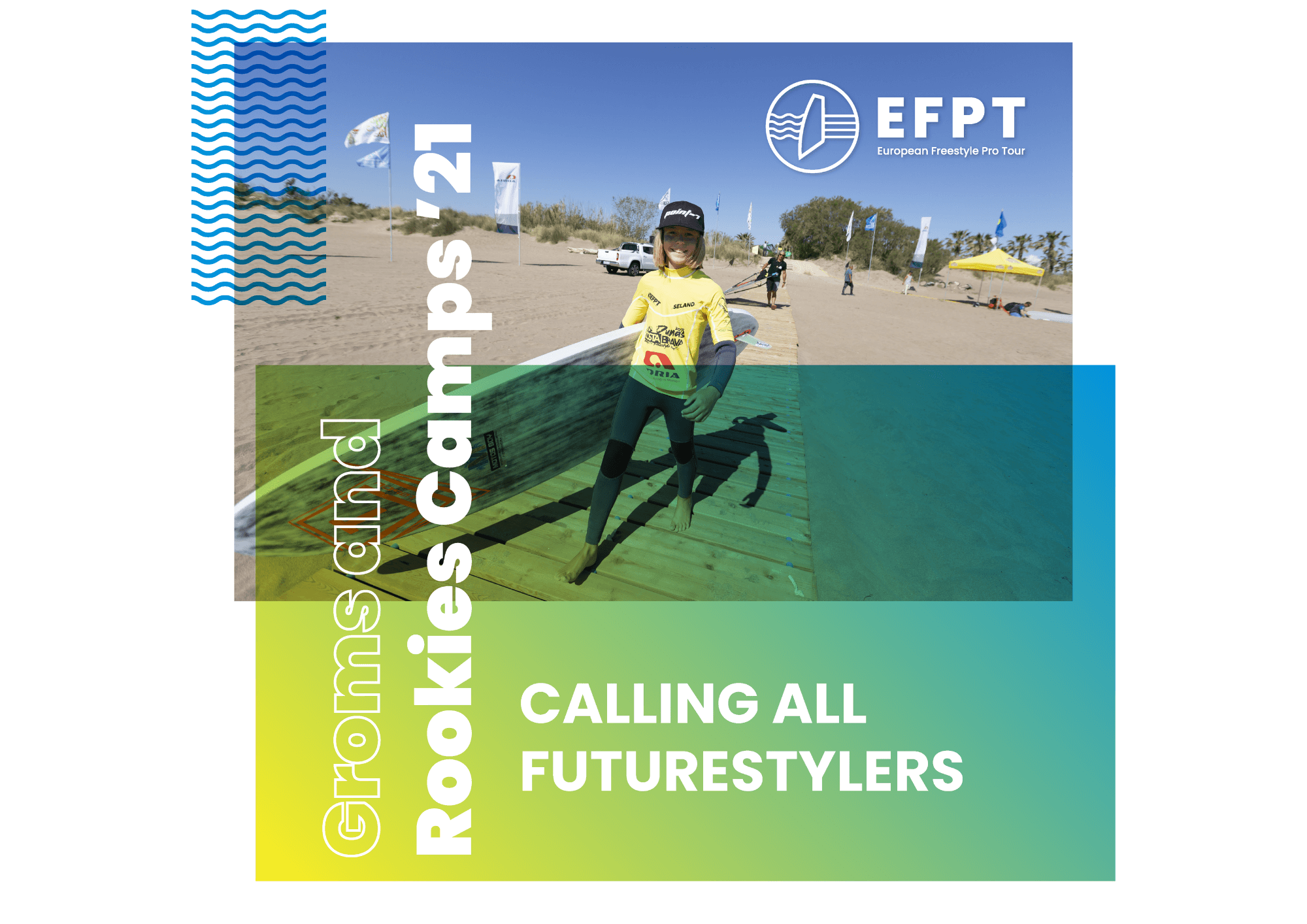 Accommodation and food
Participants can book accommodation directly through the Surf and Kite Theologos center. The price is 24€ per person per night and includes breakfast. You will be staying at the Nirvana Beach Hotel. For bookings mail directly to booking@surfandkitetheologos.com and mention your participation in the rookie camp and EFPT competition. You can also organise airport transfers with them.
Furthermore it is possible to eat lunch at Billy's Cafe for 5 euros including a drink.
Gear rental
If you wish to rent gear please contact the surfschool in advance to reserve it.
Daily schedule
The following is just a general schedule. It can drastically change depending on the wind and weather forecast. For example if it's only windy in the morning, the day can take place in reverse order. Also if there is kids, that can only join in the afternoon because of school, the schedule might get adjusted according to that.
Day1
Morning: Registration and meeting everyone at the event area or the Surfcenter.
Forenoon: Exploring the spot, learning about the prevailing wind directions, currents, tides (or also dangers of the spot)
Lunch: Eating together, getting to know everyone better.
Afternoon: Simulator-Training (new moves and techniques) —> Practicing it all afternoon on the water.
Evening: Dinner and debriefing of the afternoon session.

Day 2
Morning/Forenoon: Learning about competition format (scoring, flags, timing, area, judging etc.)
Lunch: Eating all together, preferably close to the spot or at the EFPT event organizers center.
Afternoon: Hitting the water, sailing all together, having fun, practicing moves, the coach is giving tips or he will be filming for the video analysis.
Evening: Meeting other pros.
Day 3
Morning: Reviewing last evenings session and analyzing moves that were filmed. The coach will give individual tips. And in demand, he will also individually recommend which moves to use in the heat and plan a basic heat strategy.
Forenoon: Hitting the water again, practice more.
Lunch: Time for a break and food. We'll need the energy!
All afternoon: Practice-competition (trying to make is as real as possible).
Evening: Prize-giving and dinner.
Contact
If you have any more questions, please contact head coach Julian Wiemar (coach@efpt.net)
We asked Julian Wiemar about his motivation to coach and help run the camps:
'Growing up far from the sea with the goal of making the top ten in international freestyle competitions one day, I went trough all the blood, sweat and tears involved in getting there. With over ten years of international competition experience and all my lessons learned, I became the German Freestyle Champion in 2017, followed by a 7th place overall on the EFPT Tour in 2018 and a top ten result during the PWA Worldcup on Bonaire in 2019. Missing heats as a rookie myself at one of the first EFPT kids events at Brouwersdam in 2010, setting up my watch wrong or loosing a couple of heats by less then a point, I know how hard it can be, because I've been there, and that's why I also know what to teach a rookie today. I'm looking forward to finally spread the knowledge I gained over the years and I can't wait to see everyone improve, learn and just gain confidence before the actual event kicks off. And to see a rookie sailing a good first heat afterwards and hopefully winning one, will be an amazing reward. Sign up and let's get it!'