Kiel might not be the first spot to come to your mind when thinking about your next windsurfing trip. However, the city has a lot on offer: the freestyle community, the numerous spots in close vicinity and the massive events all contribute to it being a hub for our sport. A rider who chose to move there for these, and many other reasons, is Foivos Tsoupras (Duotone/Fanatic/MUF). In our monthly spot guide feature, the Greek will guide us through the best spots around the city of Kiel in Northern Germany. Ready to pack your winter wetsuit and get on the road? Let's get started!

Why Kiel? There are so many nice places in the world to go for windsurfing, that this mostly cold and relatively central city shouldn't turn any heads right? "Wrong", argues Foivos, who heard about the city on a windsurfing trip to Rhodes back in 2014. "Freestyle Windsurfing really lives here", he continues, as he shows a map of Northern Germany and points out that the central location of the city is ideal to reach a host of high quality freestyle spots. Having lived in the city for a couple of years now, Tsoupras has explored in excess of 40 spots within day-trip-reach. "Whatever the forecasted wind strength and direction, there will be a spot for it". Discovering all spots himself would be a massive task, and an unnecessary one at that. The freestyle community is strong in Kiel, "you go to the right spot to freestyle a couple of times and you know everyone right away". Car-sharing and going on the water together are therefore the best ways to explore the various freestyle spots. There is enough people to do that with, due to the strong core group of more than 50 freestylers checking the nearest forecast together with you.
The strong community manifests itself through events as well. The German Freestyle Battles (GFB) are organised out of Kiel, and the well known Kieler Woche, Europe's largest sailing event, features Freestyle Tow-in and the unmistakeable Ocean Jump shows. This way, our sport is alive and kicking in the eyes of Kiel's residents. The GFB, made great by Valentin Böckler, unites all freestyler's in Germany, and often takes place in some of the spots we are about to explore below. It's a great platform to introduce aspiring freestylers to competition, and an even greater initiative to meet likeminded people. Next to the good vibes at the GFB, Foivos also recalls the fun he always has at the Kieler Woche – being able to express himself in front of massive crowds usually unheard of at Freestyle events.
If you don't mind the cold, the need for a weed fin, the rain and the necessity to always drive a considerable distance by car (although there are features and videos of people going to spots by bike or public transport), then you are in for a treat. Below we outline the best spots in and around Kiel, ranging from the city bay, all the way to classic spots like Fehmarn and Büsum.
Kiel City Bay
The city of Kiel is encompassing a bay on the east side of which we can find Laboe. Also called the city spot, easy to reach Laboe is perfect for a quick session in between appointments during a busy day (although it's hard to park there). The spot is best sailed with winds between SW and W. It has a a bit of chop, but when lucky it can get relatively flat. This is dependent on the water level, which changes constantly due to what can only be described as the "Baltic tides". There are no real tides there, but when the wind is blowing from one direction consistently, the water in the Baltic has a tendency to move either into or out of the Kiel bay. Make sure to always check the water level, as sometimes even a freestyle fin can be a bit too long. The convenience of the spot is naturally matched by the sheer number of wind- and kitesurfers on the water. When conditions are good, the spot is still only chosen due to a lack of time to drive to any of the better but more distant spots.
On the West side of the bay, spots like Strande or the Bülk lighthouse are an alternative for Eastern winds. They offer a similar convenience, but conditions are not great there either.
Spreading the cheeks – spots just outside of Kiel
When travelling 20 minutes further, outside the "buttcheeks" of the Kiel bay (as Foivos likes to refer to them), one can find more city spots. Contrary to what the geographical shape of the bay suggests, the spots actually offer some quality conditions. On the East side of the city, spots like Brasilien and Kalifornien come with good kickers for Forwards, Pasko's and the odd Double Air Culo (if your name is Niclas Nebelung of course). When it's proper windy, within the spots tolerance between NW and E directions, local Kiel wave guys like Leon Jamaer also come out for a quick session here. The spots have tricky parking as it can get busy, which is why there are different spots to enter the water. Still, all of them offer the same conditions when it's on, so make sure to discuss with your friends where to park when you want to share your stoke on the water!
When travelling down the other cheek of the bay, to the west of Kiel, spots like Noer and Lindhoft offer good conditions with W wind. There are no waves, but it's yet another good option for a quick session just outside of the city.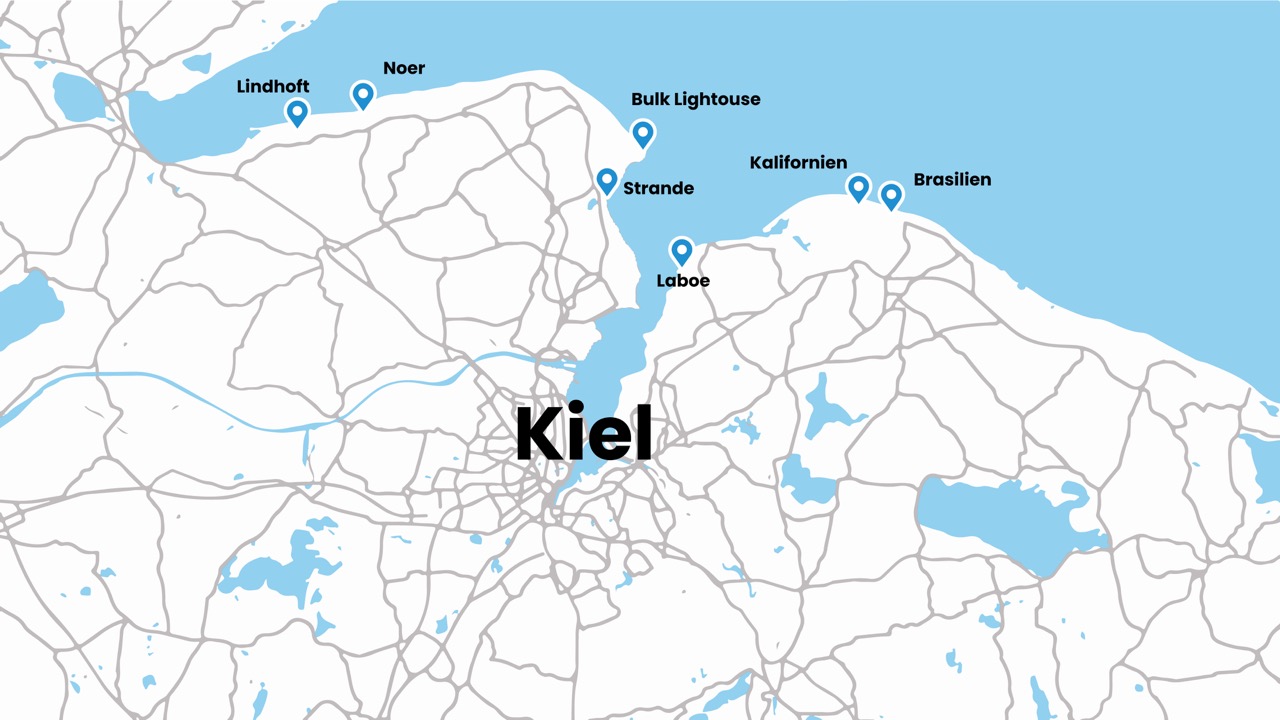 Büsum
Also known as the German Dakhla, the spot is just 1,5 hours drive from Kiel. On this side of Germany tides do start playing a role though, with a maximum of 2 hours of actual perfect conditions. Sailing here is quite a mission however, as after rigging it is necessary to walk through the mud for more than a kilometer to reach a suitable channel to sail in. It works with S to NW winds with S-SW being ideal. The spot can get busy and cold, and when you have gear failure you usually wont make it back in time to the beach to make a repair. Due to the nature of the spot, an injury could also prove tricky out here. Still, for most freestylers the risks are worth it, as the conditions for flat water do not get any more perfect than this. Büsum is a staple of what German Freestyle has to offer.
Another popular spot nearby is Meldorf which works best in the summer.
Fehmarn
Fehmarn is probably the best know spot on this list. A small island that can be reached by a 500m bridge is a windsurf tourism hotspot in the summer. It's always busy on the water, which one can choose to overlook on account of pristine flat water spots. "Fehmarn is on the top of my weather app" says Foivos. It's the first place he considers to go because it's not too far from Kiel and it services almost every wind direction. Another added bonus: "in general there are no kiters allowed" Tsoupras adds with a smile on his face. It's also a great place to meet people, as it's easy to reach by highway from many places in Germany. East or West are the best direction, but as mentioned, Fehmarn will have a suitable spot, from wherever the wind blows.
The three main spots are Lemkenhafen, Orth and Wulfen. Lemkenhafen is the go to spot for western winds. Orth is a double-edged sword as its a peninsula – both east and west work and provide flat water. Wulfen, a spot that was made famous internationally by Andre Paskowski and Gollito Estredo back in the days when the first Air Funnel Burners were becoming reality, is the E and SE spot of choice. Especially SE is perfect due to the sandbank providing water as flat as a pancake.
Bonus spots – Olpenitz and Schlei
One can get spoiled with all the options around Kiel. If you're still up for some more exploring, or bored of the water so flat you seem to have forgotten how to crash, then Foivos has a couple of bonus options for you.
Driving in the direction of Flensburg at the Danish border, one can find Schlei and Olpenitz. Schlei offers conditions like on Fehmarn, but is tricky to score it good. It works around SW, but only a few degrees will cause it to be off and gusty. It's advised to discuss with locals before going. On the end of Schlei, at the Baltic again, one can find Olpenitz which is ideal with straight east winds. It's a bit choppy in the lagoon, but it has very nice jumping conditions. It also offers kickers on starboard tack, a setup not many spots boast and riders like Foivos appreciate tremendously.
Conclusion
With the plethora of spots available within a short drive, Kiel offers an unexpected diversity of Freestyle Windsurfing conditions. There is lots to discover, but the main takeaway should be to not do so yourself. Tap into the vibrant community of freestylers by joining the GFB, sailing together and going to other windsurfing events around the city. If Foivos' experience is anything to go off of, you will not be disappointed the slightest, unless you forget your winter wetsuit or weed fin of course… 😉
The Freestyle Pro Tour would like to thank Foivos for his insights and knowledge about the area!