After starting the carbon offsetting cooperation with Starboard in 2019, we are excited to announce that with their support we will be able to make the whole European Freestyle Pro Tour not only carbon neutral for 2021 but to even turn the tour carbon positive!
75 TONS OF CO2 = 75 PLANTED MANGROVES IN 2019
In 2019 Starboard HQ introduced the EFPT with the idea of turning the whole tour carbon neutral. This involved the carbon offsetting of all the travel emissions of the crew and riders. Furthermore, the emissions of boats and jetskis used in the events for tow-in, photography or rescue we also included. The cooperation with Starboard began halfway through the season in 2019. Meaning, calculations and offsetting only cover the final two events. Included in this, was an addition of 10% for possible abnormalities in the calculation. These two events account for the release of 75 tons of CO2. Additionally, to plant the trees, Starboard works with Worldview International Foundation. Subsequently, an additional 75 Mangrove trees are now growing in the Thor Heyerdahl Climate Park in Myanmar.
GREEN INITIATIVES BY STARBOARD BLUE
So far Starboard has planted 650,000 mangroves, the miracle trees when it comes to CO2 absorption. Each tree can absorb up to one ton of carbon over 20 years. Importantly, this is five times more than any other types of trees! On top of that mangroves protect lives and properties from extreme weather, like tsunamis and cyclones. They also provide perfect living conditions for seafood and fish, so their population can rise to 50%.
Starboard not only plants a tree for every board they produce, they're also consistently working on eco-aware headquarters in Bangkok. Half of the energy used comes from renewable sources. The reason for this is due to working solar generating green power to the company. Furthermore, there is a ban on single-use and Starboard provides a fully vegetarian meal for all HQ staff, every lunchtime. Therefore, reducing their carbon footprint. Additionally, even their drinking water passes through a machine which turns the air humidity into a drinkable liquid.
It is clear to see, Starboard HQ is leading by example when it comes to a company that realises its impact on the wider environment. Moreover, education programs, to 'teach what we preach'. By working with Protect Blue, they developed a one-year curriculum program for schools around the world, focusing on environmental issues. Only by shaping the awareness of the next generation, these ideas and actions are taken further in the future. All to save our blue planet and keep our playground clean and alive.
Brand Manager Nico Prien states:
"For us at Starboard it's extremely exciting to come across organizations that share our vision and want to be proactive in fighting climate change. With the EFPT setting an example in becoming carbon positive, we're hoping to see more watersport events taking similar actions in the future. Now the eyes are on the EFPT, and we're looking forward to see what else they can do, in order to run the events with a lower footprint."
STARBOARD STEPS UP TO MAKE THE EFPT CARBON POSITIVE

The aim for the cooperation of Starboard and the EFPT in 2021 is to make the tour not only carbon neutral but carbon positive. Meaning, over time, the equivalent emissions of the previous EFPT events will be absorbed. Due to, the total emissions of the events in 2021 had an additional 10% added to the total for sequestration.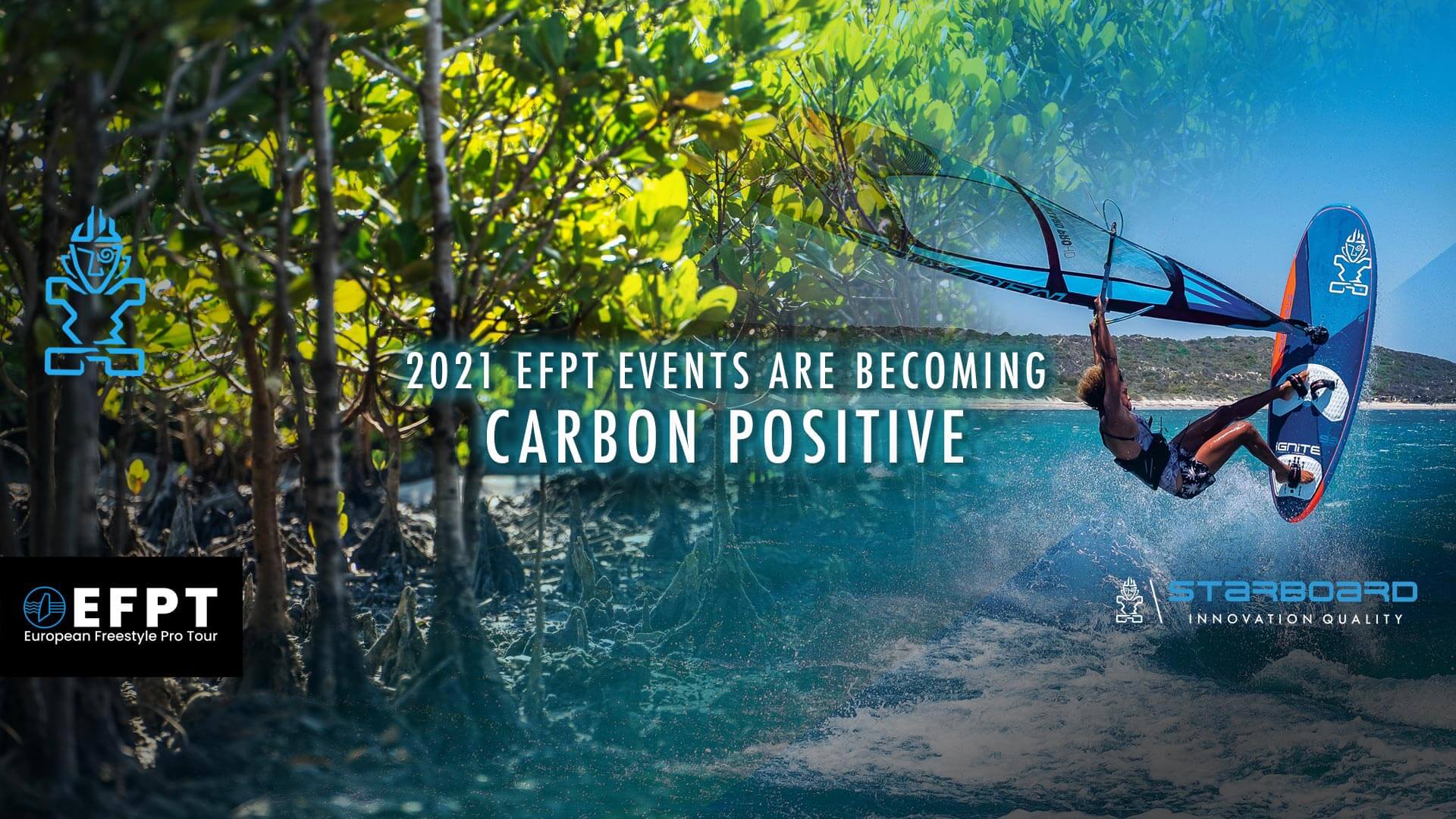 Within the EFPT we are working on making travel distances for riders and crew as short as possible between the events by scheduling the dates for the tourstops in local proximity, so a lot of back and forth traveling can be prevented. Furthermore we are assisting local organisers in developing concepts to use less non reusable plastic for the riders and crews food arrangements at the event-site. The whole EFPT crew clothing will be produced by Grundstoff.net, a company that produces organic, CO2 neutral, fair trade items to outfit our staff. Now with the help of Starboard, the EFPTs climate protection measures can be taken to the next level.
Adam Sims, CEO of the EFPT states:
"It's an extremely exciting time on the tour, we are working hard on so many aspects and to already achieve goals like this so early on is really motivating. It's been great work by the team to enhance what was laid out before and bring us to a point where we will see the future of the tour offset past events. Special thanks must be accredited to Starboard for aligning with our visions on this one and helping us achieve a responsible and bright future. The move goes hand in hand with our work over at AALVAA Media, where we are achieving a full carbon neutral media production. The whole team can be proud in the knowledge that everything we do and create is now done so with less negative consequences to our planet. What's next…"
We, speaking on behalf of all the EFPT team members, are proud of this cooperation and are thrilled about the possibility of 'returning' something to this beautiful world, that is depending on our protection.