With an amazing forecast for the day the skippers meeting was schedulded for 9.00am to guarantee to possibility to use the whole day for the freestyle race. The offshore easterly wind started to fill in around lunch time and the first heat of the day could be launched at 12.30 am.
The changing conditions were quite difficult with rather light and gusty winds in the competition area that was located far outside in the bay of Six Fours les Plages. Race director Tom Hartmann chose the best trick format with three moves counting each tack and a heat duration of nine minutes to make a fair contest possible.
Outstanding in the first round was especially Paco Mercader who seemed to improve his level a lot. He could win over Loic Viandier (F2/Sailloft) from France, but then had to give way to Amado Vrieswijk (Severne/JP) from Bonaire whose high level is certainly undeniable. Vrieswijk used the tricky conditions in a very tactical way and was chosing wisely were to perform his moves. Whilst he was mostly showing sliding maneuvres in the first heat against Mercader he could step it up big time in the quater final against Julien Mas (JP) who himself took down Adam Sims (Patrik/Sailloft) in the first round with a very solid and stylish performance. However, the Frenchie had no chance against current leader of the tour Vrieswijk and had to let him pass to the semi final.
Phil Soltysiak (Starboard) from Canada who is a very routined competitor made the best out of the conditions showing a lot of tactical skills. He was taking down young Riccardo Marca (North/Fanatic), who himself impressed with his rising level. Soltysiak then had to take on Adrien Bosson (North/Fanatic) who seemed to benefit from his local knowledge of the spot and conditions. Both riders were filling their judging sheets well, yet the French freestyler could convince on technical skills, diversity and also style.
Hugo de Sousa (RRD/RRD) from Brasil is taking part in the EFE for the first time this year and straightaway made an impression on the beach with his great personality, in the tow-in competition yesterday and also in the freestyle today. Whilst other riders are struggling to get planning, De Sousa is throwing himself through power moves at an incredible height. He managed to defeat strong sailing Vladimir Yakovlev (JP/Neilpryde) from Russia, yet couldn't get past Van Broeckhoven who was a force of its own today.
Participating in the EFE for the first time in 2012, Antoine Albert from New Caledonia has been stepping up his game year by year and definitely became an opponent to look out for. Albert defeated Swiss sailor Loick Spicher in the first round and caused an upset in the second round by taking down Yentel Caers (JP/Neilpryde), who is ranked 2nd overall at the moment, by a 2:1 decision. Albert did burners and culos both tacks in his heats, a bob-clock as well as perfect regular chachoo. Adrien Bosson ended the run of the New Caledonian in the quater final and sent him straight to the losers final.
On the other side of the draw of the quarter final Steven Van Broeckhoven (JP/Neilpryde) proved he was back in the game after his injury and took out Vrieswijk in an impressive heat. Both riders were on fire showing double spocks, double culos, spock culos and other powerful move combinations. Van Broeckhoven impressed again with moves of technical difficulty and also Vrieswijk answered with explosive moves of his own and stomped a huge kono and a nice kabikuchi. The Belgian though was taking revenche for the heat at the DAM-X event sending Amado to the losers final were he met Albert.
The top level sailor from Bonaire left Albert no chance by landing a culo on port and a spock-culo on starboardtack as well was an absolutely massive and clean air-bob, a future, air-funnell funnell and other power moves.
In the winners final where Van Broeckhoven met Bosson, the wind became more unstable again. Both riders showed an extremly high level of professionalism in the tricky conditions even if they had to pump themselves into some of the moves. They still performed on a very high level mixing old-school tricks and sliding maneuvres like lollipops, esliders and grubbies with new school freestlye tricks like shove-it spocks, air-funnells, culos and konos.
In the end Steven Van Broeckhoven could take victory by going through his moves higher, cleaner and with more style.
The result of the first single elimination at the EFE 2015 therefor is: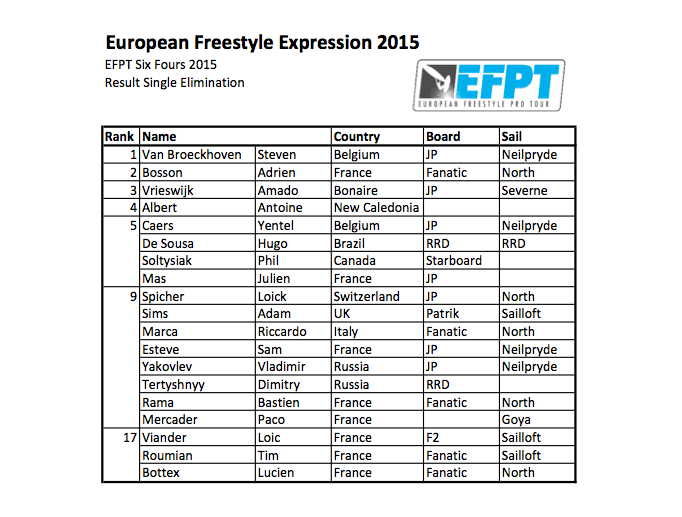 The plan was to go into the double elmination straight away. Unfortunately the wind dropped off more and more and made a fair competition impossible. With a similar forecast for tomorrow we are optimistic to be able to start the double latest in the afternoon.
European Freestyle Expression 2015_podcast #2 from Open Ocean Media on Vimeo.