Michael Rossmeier, who has been a freestyle competitor on both the EFPT and the PWA, started collecting all of his knowledge about this sport to pass it on in what is now known the 'Bible of Windsurfing' – the Tricktionary.

Three editions have been published so far and in a very digitalized era, developing the Tricktionary app has been the next logical step. This app covers everything from basic moves up to new school power freestyle maneuvres. It helps you to visualize the move via video and photo footage, shows step by step progressions and will even suggest what to learn next, once you have reached your set goals. With the new easy way to access all the tricktionary content and the possibility to download certain moves to your phone, you can learn at anytime and anywhere.

EFPT: Rossi what is your personal connection with freestyle windsurfing?
I just love to be free to choose from whatever trick or movement I wanna do next – and I was always impressed by anything that has to do with tricks and style – racing, speed was never my ambition. This I did not realize until I got more and more into windsurfing and started with freestyling which is when I really got fully motivated and into this tunnel of learning one new trick after the other. After many years of competing, now, being retired from the real need to train for competitions, it takes me longer to learn new tricks but I have my goals and I enjoy my freestyle sessions a lot!

EFPT: What motivated you to start with the Tricktionary and when was that?
2005, some of my friends had these folders with cut out pages of all the trick pages on the windsurfing magazine – the idea ways to do a freestyle bible – the first Tricktionary came out in 2006 in 4 languages, 188 pages "only", in 2008 already we released Tricktionary 2 with 292 pages and a lot of years later, after 3 years of hard work, Tricktionary 3 now is the most complete windsurfing book ever. The important thing was that this new book would have so much more information on everything and focusing on what people want to learn most, that everybody who has Tricktionary 1 or 2 or even both books, would really want and need Tricktionary 3. The new Tricktionary has crazy 480 pages, it's really big and comprehensive!

EFPT: Who is the team behind the Tricktionary apart from yourself?
I work with contributors and riders, trying to unite the best coaching experts and experiences of the worlds best into a guideline for the reader. For the windsurfing book the main contributor was Andy Brandt and his team at abkboardsports, located in the USA and Bonaire, doing windsurf coaching all year long for all levels.
Andy was really a mastermind behind many of the beginner and intermediate parts, he is truly a genius in analyzing the problems of people and working around them, also he is really good in splitting movements into pieces and training them separately, the perfect Tricktionary way of teaching! Besides Andy and ABK, I had contributors for different disciplines such as Andrea Cucchi for the Slalom part, Phil Soltysiak for the high level Freestyle moves, as well as Jem Hall, super coaching guru from the UK for the wave basics and intermediate topics and Leon Jamaer for the high end wave tricks.
I am working on expanding the Tricktionary style into other sports too and successfully published the Kiteboarding Tricktionary in 2013 together with two super good authors. Now I am working on the SUP Tricktionary, as well as some foil parts for windsurf and wing, as well as a new Kiteboarding Tricktionary for waves and strapless freestyle. Lots to do!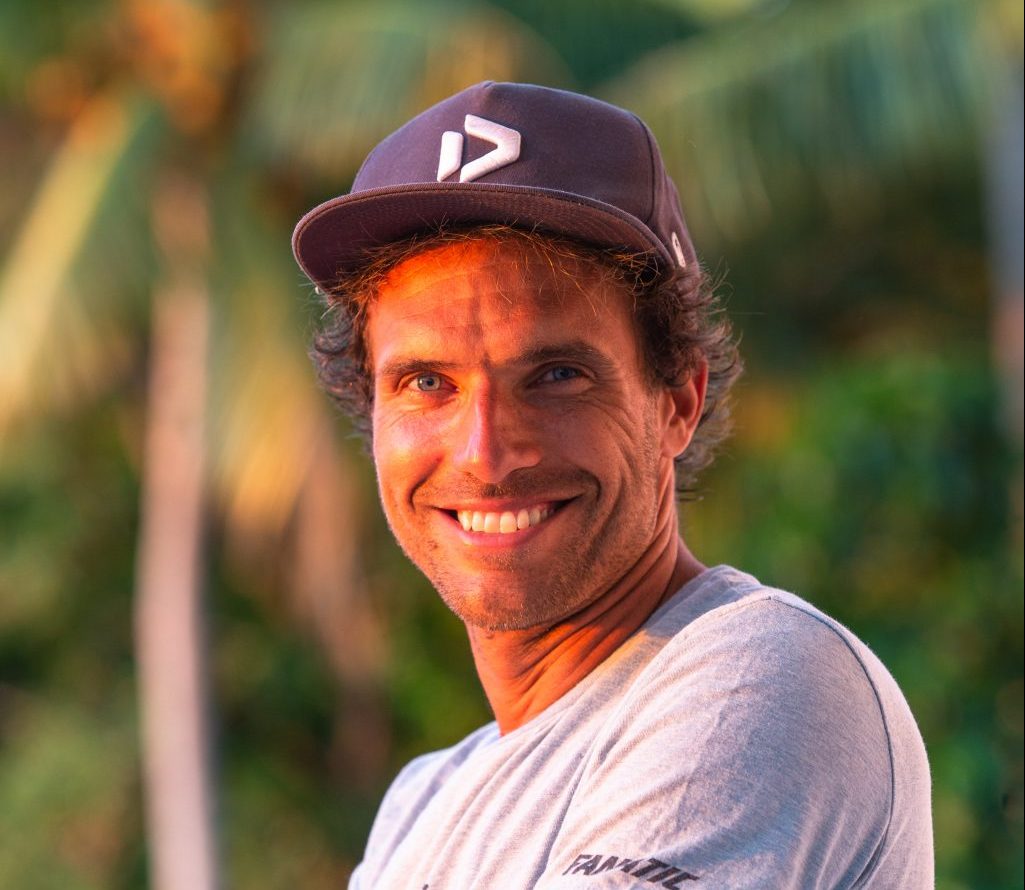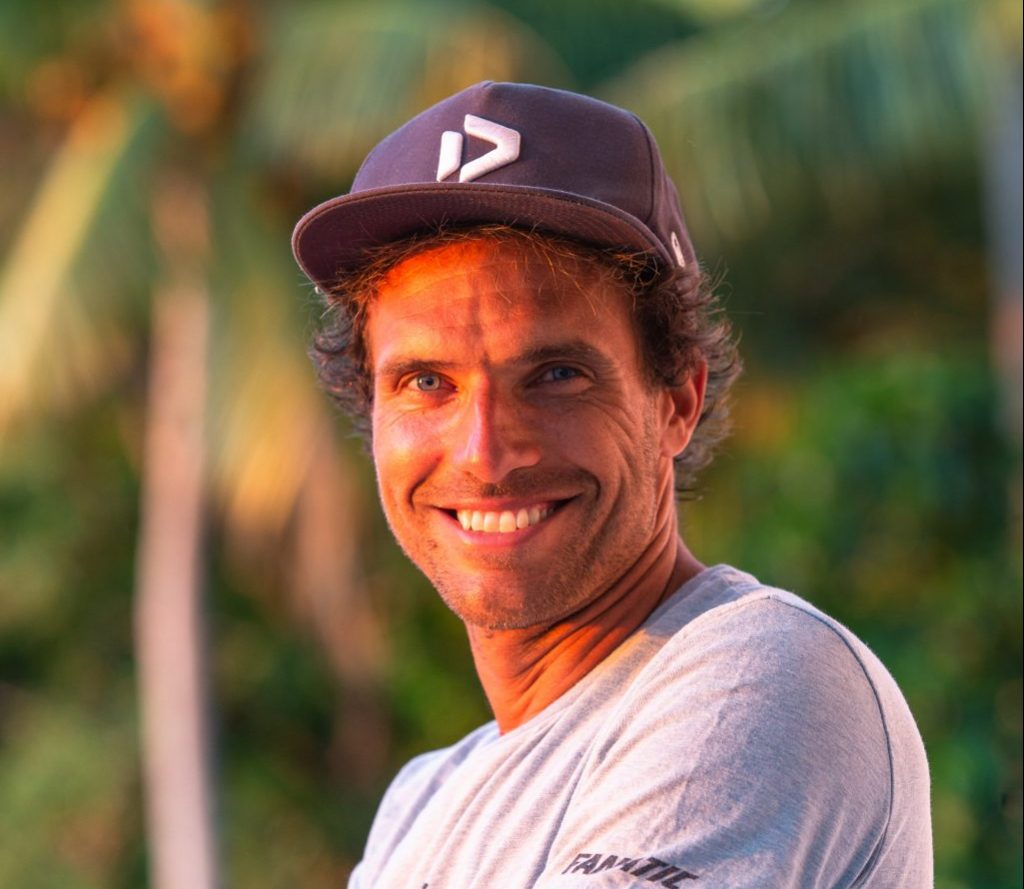 EFPT: Did the work around the Tricktionary improve your own windsurfing skills?
Yes, I especially felt that when i was working super detailed on Windsurfing Tricktionary 3 together with Andy Brandt. Many times things were super tough to discuss since there are many teaching techniques and all are kind of valid. Many times some input from another source, another continent in this case, helped to bring fresh ideas into my own windsurfing. Same for the work on the high end Freestyle Power Moves with Phil Soltysiak – here I learned a lot from him, analyzing these movements in detail really is key to learn to spin and fly through the air with more control!

EFPT: The book that is known as 'the bible of windsurfing' is a must have in the windsurfing scene and is used by the old and the new generation likewise. Do you feel that the app will replace the book or will there be another addition?
Not yet – people told me in 2005 already I should better do a website and books are dead – and I am still doing books!
The app for now is a perfect addon to the book, it shows moving pictures and that is super good to learn movements and to learn to feel what is the right movement. It helps to understand when you are getting closer to a specific move you are working on. Also it is cool to track your progress and find out what to learn next. It's also much easier for me to add new content, which is super difficult with a printed book obviously.
Soon we'll release all Tricktionary books as eBooks too – but I believe people still wanna buy printed books. It's something special when you have a printed book in your hands and it's something you keep forever somehow!


EFPT: Do you know riders who are using the app?
I do not think that pros are using the app or the book. Once you are on such a high level you get your motivation and inspiration from something else, like riding with friends and so on. You are on another level of learning new movements cause you had to learn so many tricks before already – you'll have your own way. But I know quite a few riders now who have started with the Tricktionary and worked their way up into the Worldcup – so cool!
I know lots of people who are using the app. We'll hopefully have a renewed version with new features coming this year 2020 – stay tuned!

EFPT: How many editions of the book has been sold in how many languages and how many people use the app?
In Windsurfing only, over the years it must have been more than 50k windsurfing Tricktionary books that have been distributed in 6 languages. We have more than 20k users on the Windsurfing tricktionary app now.

EFPT: What are your personal goals for the Tricktionary and it's evolution?
In Windsurfing, I think the book is now at the top of it's development. We are working now on a Windfoil edition, since Windfoiling was very new when the Tricktionary 3 was finished, so it could not be included.
The app is being upgraded slowly, step by step to the level of the coaching technique in the book. That's lots of awesome work to do on the Tricktionary path – the next steps and goals are to grow into other sports too so I can keep doing what I love which is working and living everything on and in the water!