This could have been THE year, 2020 – this could have been it. The tour looked amazing for the season and the EFPT riders have been using the winter months for some intensive training all over the world. When COVID-19 hit Europe, at first people were playing it down. They were booking trips and making plans, however soon had to notice that the situation got out of hand. In order to be controlled, restrictions by the governments worldwide came rolling in. Israel had been one of the first countries to close the borders, Italy was struck heavy and made the rest of Europe realize that this new challenge for the health system and the economy was not a joke. People were locked down, travelling had been restricted to a bare minimum and the borders in and around Europe were closed down. We talked to three of our riders in confinement: Riccardo Marca (Duotone/Fanatic) from Italy, Dudu Levi (Gunsails/Starboard) from Israel and Sam Esteve (JP) from France. We wanted to know about how they cope with the situation, we wanted to hear of the upsides and downsides and we wanted to get some inspiration for you. The top three things to do, the top three movies, the top three confinement songs and first and foremost: how can each and everyone of us draw something good out of this and what can society learn from this situation?
EFPT: Where are you now?
Sam: Leucate, South of France.
Riccardo: I'm in Tarifa, Spain, since the beginning of January. I was here before the quarantine started to train for the upcoming competition season with Alex Mertens. We thought it was better to avoid the travel back home when everything started so we decided to wait and stay here, we would have never imagined that the situation could have go on for such a long time. (editors note: both Riccardo and Alex have made it back home by now.)
Dudu: I'm in my home in Israel.
EFPT: What does it mean to you to not be able to hit the water anytime you want?
Sam: Since I was five years old, I'm 300 days of the year in the water, so right now I'm a bit like a fish dying on the beach. But actually we are working with the agglomeration community of Le Grand Narbonne to get back in the water as quickly as possible.
Riccardo: It's not the first time I'm not able to hit the water anytime I want, even at the beginning of this year I injured my left ankle and I was forced to stay out of the water for three months, it's been super hard but I got through it. With this I actually wanted to say that it's not just about not being able to hit the water at the moment, but it's more about what's happening in the world which makes me feel really bad. For sure I miss windsurfing a lot but I'm looking forward not just to windsurf again but to windsurf again when everything will be over and back to normal.
Dudu: It's not easy to think about it when you're healthy and there is time.
For me, it's just a break. But it's really hard to look out the window and see that there are conditions outside
EFPT: Especially outdoor sport lovers seem to be on a kind of withdrawal now. What is your therapy?
Sam: I continue to train every day. For me training is life. It helps me feel good about myself and my body.
Riccardo: I guess that for all the outdoor sport lovers is a really hard period, being stucked at home without being able to get out gets harder and harder day by day. I'm trying my best to keep myself busy in different ways and of course fit as well. Since the beginning of the quarantine I did almost daily training at home. I believe that there's alwatys a good side in everything, for example I had the time to start doing some yoga which I never really did before and I'm really enjoying it, especially it's helping me to relax and calm down in some tough moments. I'm also spending quite some time cooking and experimenting new recipes, I love cooking but I never really have enough time to enjoy it as much as now. So… I'm trying to stay positive even if it's not easy.
Dudu: I am glad I am still working. So I spend my free time training at home and running around!
EFPT: Is there anything new you have learned / picked up during confinement?
Sam: This year I am at schoolto learn how to teach and create my windsurf center.
I also started to make freestyle tutorials on my youtube channel called "SAM tutorials". And I learn to break down my moves.
Riccardo: Actually I learned quite few things. I'm spending the all day with Alex since we're leaving together and it was really cool and motivating to learn new photography and video's techniques from him. Normally during the year when you're really focused on training and competing you don't have so much time to get too much into photography and videography, but this was a really good opportunity to get to know something more about it, I really like it, it takes a lot of creativity.
Dudu: I didn't pick up something new. But I got to spend a little more time on other hobbies like playing guitar for example.
EFPT: What will be the first thing you'll do when this is over?
Sam: Start a morning surf session. Go for a big windsurf freestyle session in the afternoon in Leucate and check the sunset with a beer and friends.
Riccardo: To be honest there isn't really a specific thing I'm looking forward to do when all this will be over, but I'm more looking forward to live again without the constant thought of the virus and all the bad things it's causing around the world.
Dudu: I believe it will not change quickly so I will slowly come back to the routine and think about what's next.
EFPT: What do you think the world / people should learn from this situation?
Sam: This situation shows me how people need to move to be fine in their heads and their bodies. We could not stay home for all day long and do nothing. People should realize how vital sport is.
Riccardo: There' s a lot to learn from this situation, both personally and generally.
One of those is about the environment, we realise now more then ever how much the world needed this break and how bad the human's activities are for the earth. So I hope we will remember this and that we will change in order to take more care of our planet.
On a personal level I think that in this occasion, you can get to know yourself a bit more and it's for sure an occasion to get better.
Dudu: That you can live differently! And to invest more time into yourself.
The Top 3 of Confinement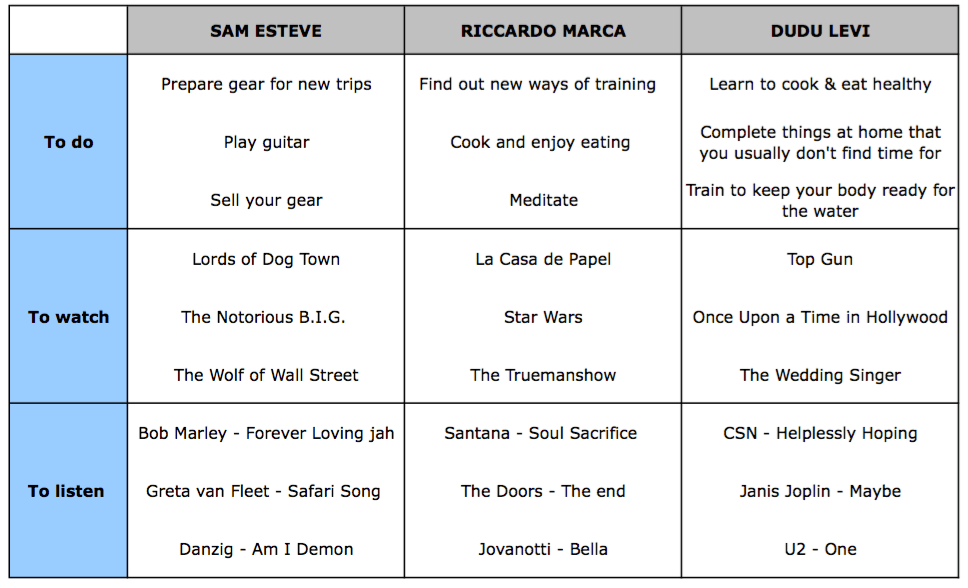 The Confinement Playlist