The waiting period is ON! In the upcoming week our crew in Cape Town is studying the forecasts meticulously to run the first ever Freestyle Pro Tour event in South Africa. The competition will also be the first in the all new Proving Grounds Series, focused on a flexible and fun way for anyone to compete in Freestyle Windsurfing. With the diverse conditions, super sessions and the presence of some big names this event is set to be a banger! Read all the details below and check out this Freestyle/Wave action clip from Adrien Bosson (Fanatic/Duotone/MUF) to get an idea of the conditions the event is expected to get!
The current forecast suggests that the event will most likely be held on Thursday the 26th of January. The single elimination will be held on the Rietvlei lake at the Milnerton Aquatic Club (MAC), who are kindly supporting the event. The double however, will be held on the open ocean, adding some waves into the mix for some world class action! Depending on the conditions, the fleet will go out at either KFC, Sunset or Big Bay. With the event being open to all, we expect a fun mix between freestylers and wave windsurfers! Due to the nature of the Proving Grounds Series, which is a flexible competition platform focused on having fun, the competition will be supplemented with super sessions. Separate awards for the Best Forward Loop, Best Shove-it, Best New Move (attempt) and Best Move (attempt) will be given out, ensuring some progressive riding and radical action! Are you around and want to stay up to date about the locations and times? Go to efpt.net/ct-updates to join the event whatsapp group.
Lot's of big names are currently training in Cape Town. Expect to see the current world champion Adrien Bosson take part, along with the likes of Dieter Van der Eyken (Severne), Dudu Levi (FutureFly/GUNSAILS), George Grisley (AV-Boards) and many many more. Riders known more for Wave Windsurfing are also present, so we hope to see them enter as well. A host of riders are also expected to make their competition debut at this event, stay tuned to get to know some new faces!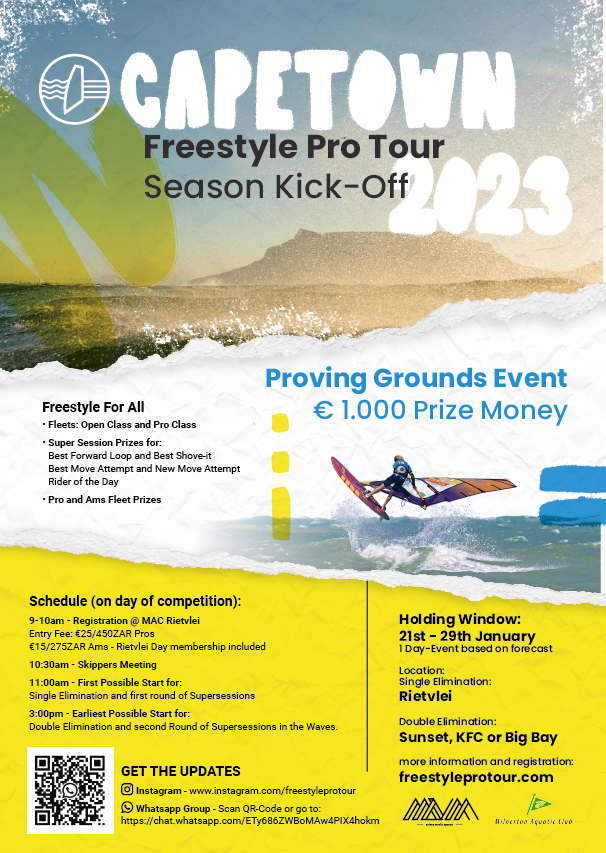 The event will be completed in one day and closed off with a prize giving ceremony at the MAC. The evening will also be enriched by the premiere of the freestyle/wave short film "Landing Day", which will be released online afterwards.
So how do you follow the action? We will be updating our Social Media with reports throughout the day. And, like all of our events, expect a report and a highlight video online at the end of the day, so you can get in on all the details!
Can't wait for all the action to start? The FPT Awards Public Vote is currently running on our Instagram! Cast your votes there and help us decide the best Freestyle Move of 2022.
Follow us on our Instagram to stay up to date with the event and participate in the FPT Awards vote: https://www.instagram.com/freestyleprotour/