Anyone following the Freestyle Pro Tour need not be introduced to Felix Volkhardt (Severne/MUF). Last year's most improved rider of the year award winner has once again been making a mark on the freestyle scene this year, working hard to improve and promote our sport. One of his latest endeavours is the organisation of the Rookie Revolution Camp together with Lina Erpenstein. We caught up with Felix to learn all about his mid-season training, his preparation for the camp and the new Severne board he helped develop.
FPT: Hey Felix, hows it going? We saw you were doing some training in Fuerte?
Felix: Hey guys, all good here. Indeed I just came back from Fuerteventura where I was training to prepare myself for the upcoming events and get all my moves dialed in. This year is special because it's the first time I went with my van and I have to say I love it. I was also surrounded by some good friends and competitors like Dudu Levi (FutureFly/Gun Sails) and Adam Sims (Sailloft). This makes the whole trip way more fun since we always push each other to the max at every session.
FPT: You also introduced the new Psycho to the world, excited about it?
Felix: Haha, exactly! Two weeks ago we finally had the presentation of the new Severne Psycho 3. I was waiting quite a while for the final reveal of the board. Its the first time I got the chance to work together with a brand on a board and I am really stoked to show the outcome to the world. I think the collaboration with my teammate Dieter van der Eyken and our Shaper Albert Pijoan was very fruitful! We started to test the boards last year already, also here on Fuerte. Now one year later we are finally ready to show it to the world. Furthermore, I am really stoked to announce that we added a completely new size to our range. From now on we will also have an 86l Psycho which is my absolute go to board in any kind of conditions since I am a quite a light rider at 67kg.
FPT: So now that the board is released, what's your next big project?
Felix: I am really stoked about what's coming up next. It's a project I've had on my mind for quite a while already, and it's finally happening. I am excited to tell you guys that I will host my very first windsurf camp. It's going to be a Kids Camp called the Rookie Revolution Camp and will take place upcoming October.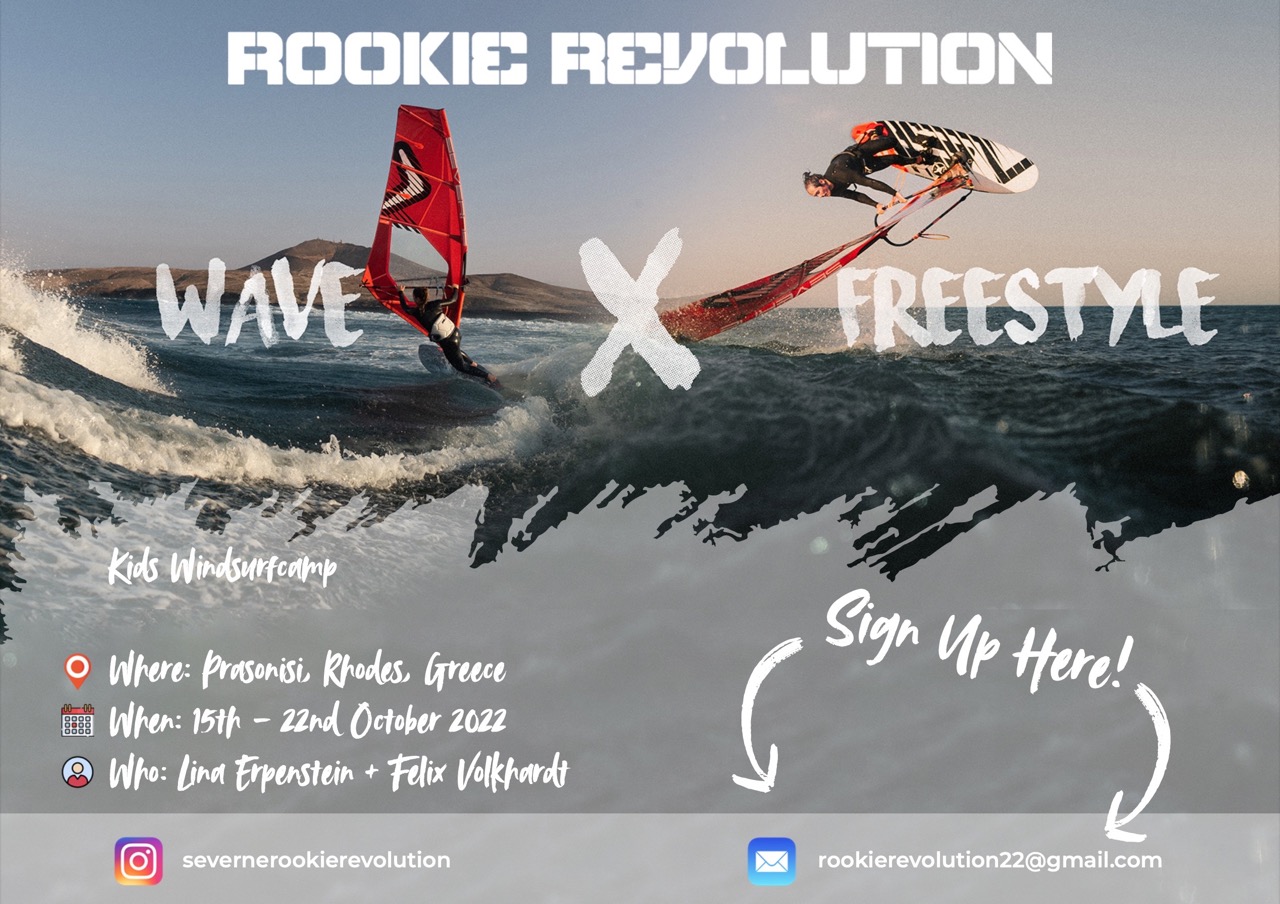 FPT: Exciting! Giving back to the freestyle community by nurturing a new generation, can you tell us a bit more about it?
Felix: Yes, exactly! I already got quite a bit of experience working as a windsurf instructor for five years at Brouwersdam. Now I decided it's time for me to try to do my own thing and organize a windsurf camp by myself. When I was young I always saw the JP & NP Young Guns camp where a lot of kids went to. I always wanted to go myself but never had the opportunity. Nowadays these kind of camps don't really exist anymore so it was time to take matters into my own hands. I partnered up with my friend and wave sailor Lina Erpenstein and together we started to put pen to paper.
The Rookie Revolution Camp is going to be a kids camp for boys and girls starting at the age of 12. It will take place in Prasonisi, a spot on the island of Rhodes, from the 15th to the 22nd of October. The Lighthouse hotel, 50 meters from the spot, will host us with an all inclusive service, meaning that you can have a 100% focus on your windsurfing. An integral part of the camp will be video analysis, and we will take professional pictures for you to enjoy and share after the camp!
In terms of gear, you can either bring your own, or use the latest Severne Windsurfing gear from our surf station partner on the beach. An organized transfer will get you to and from the airport, so everything is covered for you except for your flights here.
FPT: Sounds like you took a very professional approach! And you are teaming up with Lina? How did this collaboration come to be?
Felix: Exactly, I partnered up with my friend Lina Erpenstein who doesn't need an introduction I guess. She is a professional German wave sailor competing on the PWA for quite a while now. She just became 4th in the women's competition in Pozo!
We spent our winter training together in Tarifa this year and this is also where the whole project kicked off. We were sitting on the beach on a no-wind day and talked about how be both realised that there aren't enough possibilities and support for the upcoming generation. It's hard for them to push their level, as there aren't too many freestyle or wave camps to go to. After some time brainstorming about it, we made the decision to start planning our own. To be honest it was way more work than we expected in the beginning but we are happy to say that we found some really good partners helping us to ensure its going to be a super fun week of windsurf action on the water.
FPT: Tell us a bit more about the spot, many people know it as a freestyle paradise?
Felix: Prasonisi is a windsurf spot located all the way in the south of the island. It offers perfect freestyle & wave conditions to improve your level. The spot is created through a sandbar which is connecting the main island of Rhodes to a smaller one just behind it. This is why the spot offers perfect freestyle and wave conditions at once. On one side of the spot the wind is coming onshore combined with a little wave, making the spot perfect to go for your first Front- or Backloops or even some wave riding. On the other side of the sandbar the wind is coming straight offshore which creates a perfect flat water spot to go for your first freestyle moves or even push up to the latest freestyle power or combination moves. No matter if you want to go for freestyle or wave the spot offers everything you could ever want.
FPT: Who should be excited to join the camp?
Felix: The Camp is for boys and girls from the age of 12 years. The only requirement we have is that you are comfortable planing in the harness and footstraps. I think everyone who wants to have a fun week with likeminded people, windsurfing one of the best spots in the world should consider to join us. We will teach you everything you want to learn. Doesn't matter if you want to go for your first power jibes or if you want to learn one of the latest freestyle/ wave tricks, we've got you covered and will give our bests to help you master it as fast as possible. We want to give everyone the chance to meet likeminded people, make new friends windsurfing and have a great time on the water with us. So make sure to reach out to us and save your spot during the camp.
FPT: What move will you be working on while at the camp? You aiming to get into the waves under Lina's watchful eye yourself?
Felix: Haha, good question! So first things first, during the camp I will be the teacher so the focus will be more on showing and teaching whatever move the kids want to learn. This will be my main goal during the camp. But who knows, maybe I will find some time in between or after our training sessions. If this is the case I will probably go to the wave side of the spot and work on my shifty's since its one of the few spots in Europe where you get starboard tack jumping conditions.
FPT: We are excited to see you join the Shifty game! If people want to see you crash trying (;)), or participate in the camp, how can they reach you for more information and signing up?
Felix: Yes, it would be great to have as many people join, parents are welcome as well!
You can contact us via mail at: rookie.revolution22@gmail.com
Furthermore we are on Instagram: @severnerookierevolution, @felixvolkhardt and @linaerpenstein
FPT: Thanks so much Felix, we are looking forward to the content coming from all the young rippers (and you!) during the camp!